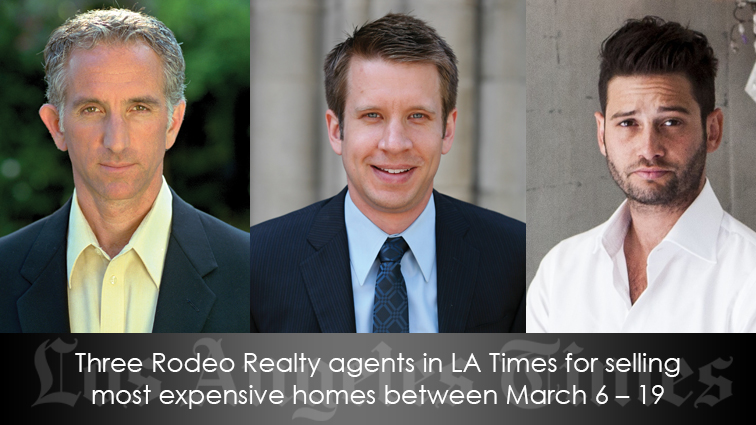 In the past two weeks, three Rodeo Realty agents sold two of the most expensive homes in the Greater Los Angeles area.
Making real estate news in the Los Angeles Times is Peter Maurice and Tregg Rustad. The two agents sold a $9 million listing that belonged to Frederick Huntsberry, the chief operating officer of Paramount Pictures. According to the newspaper, the buyer was Francesco Aquilini, Canadian billionaire and owner of the Vancouver Canucks hockey franchise.
The agents listed the 4,507-square-foot home in February and closed sale in about a month. According to the LA Times, Huntsberry purchased the home six years ago for $3.84 million—less than half the price it was sold for.
The renovated midcentury home in Beverly Hills is said to have four bedrooms, four bathrooms, terrazzo floors, a dramatic according-style ceiling and walls of floor-to-ceiling glass that look out to a half-moon-shaped swimming pool.
Among the top residential real estate sales is also a Beverly Hills home that was sold for $7.5 million by Josh Flagg. According to the LA Times, the home was destined for the wrecking ball.
Flagg tells the newspaper the amount eclipsed the previous high-water mark for the area by $2 million. He represented both the buyer and the seller in the sale.
The sales report is for the period beginning March 6 and ending March 19.
To read the LA Times article, click HERE