PropertySpark has released their list of 'Top 100 Real Estate Agents On Social Media in 2018.' Two Rodeo Realty agents have been recognized for their social media efforts and made the top 100 list.
"These real estate agents are reaching thousands of people by leveraging multiple social media channels," said PropertySpark.
Listed at #22 is Rodeo Realty's Sunset agent, Jamie Tian.
"Jamie Tian is intelligent, successful, and has achieved and been awarded with being a "30 Under 30" Honoree," said PropertySpark. "If you need some options for a new home, she is always posting new home listings on her Facebook page so be sure to check them out!"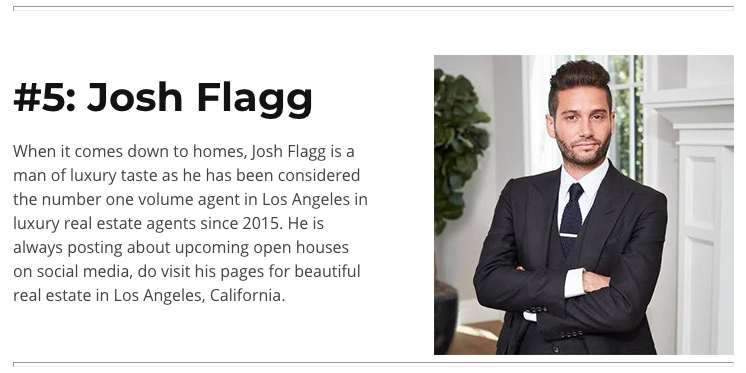 Listed at #5 is Josh Flagg of Rodeo Realty Beverly Hills.
"When it comes down to homes, Josh Flagg is a man of luxury taste as he has been considered the number one volume agent in Los Angeles in luxury real estate agents since 2015," said PropertySpark. "He is always posting about upcoming open houses on social media, do visit his pages for beautiful real estate in Los Angeles, California."
Congratulations to Josh and Jamie for your recognition and for the social media presence you have achieved across several different platforms!
According to PropertySpark, the Internet company researched hundreds of agents' social media channels and went through a certain process to select the best.
To see all 100 agents who made it to the list, click HERE.