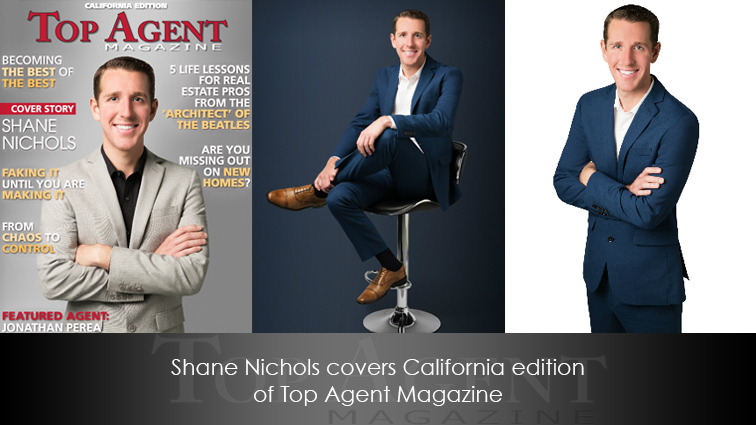 Featured this week in the California edition of Top Agent Magazine is Rodeo Realty's Woodland Hills agent, Shane Nichols.
Nichols is covering the front of the magazine and is also highlighted throughout the publication.
In a 6-page spread, the premier real estate magazine gives an in-depth look at Nichols career and his success.
"With a natural ability to sell and a strong drive to achieve goals, Shane Nichols has set himself apart in the southern California Real Estate market," said Top Agent Magazine.
The magazine mentions Nichols previous career in sales and how that led him to become a Realtor®.
"The year 2015 was his first full-time year in the business, and he was recognized at Rodeo's yearly awards ceremony as one of the Top Producers of a company with 11 locations and over 1,200 agents," said Top Agent. "That's impressive."
To demonstrate how the real estate agent goes above and beyond his client's expectations the magazine also published two of Nichols' Zillow reviews.
"…We interviewed 4 different agents, Shane was first," said one recent seller. "After we had interviewed everyone, we came to the conclusion we definitely wanted Shane to sell our home."
The review ended by saying, "When all is said and done, we couldn't be happier with everything he did for us. We gained a great Realtor® and lifetime friend."
The article closes off by stating that Nichols passion for the real estate industry stems from the people he gets to help.
"I'm in a service profession for a reason: I enjoy helping people," said Nichols. "And finding them that home of their dreams is a pivotal part of what I do and why I enjoy it."
To read the entire feature on Shane Nichols, click HERE.
[su_document url="https://rodeorealty.blog/wp-content/uploads/2016/10/Top-Agent-Magazine-Shane-Nichols.pdf" height="760″ responsive="no"]