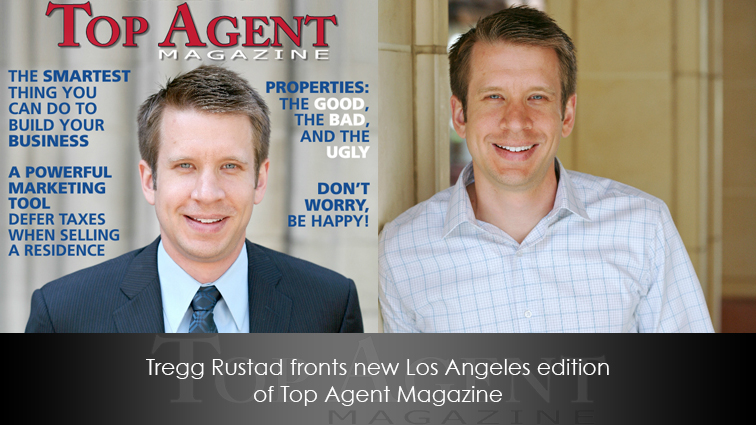 The new Los Angeles issue of Top Agent Magazine is out this week with Rodeo Realty's Tregg Rustad as the cover Realtor.
The Beverly Hills agent fronts the publication and is featured within, with stories about his very first sell, his real estate team, and his life.
"The most interesting part of Tregg Rustad's work is putting the pieces of a real estate transaction together," said Top Agent Magazine. Rustad's attitude and expertise have earned him and his partner, Peter Maurice, a ranking as Rodeo Realty's top team, states the article.
"Year after year, the Wall Street Journal and Real Trends rank them as one of the Top 12 real estate teams in the Greater Los Angeles area…and one of the Top 250 teams in America, out of 1.1. million Realtors® nationwide," said Top Agent.
According to the feature, in the 15 years that Rustad and Maurice have been working together, they've closed 1,300 transactions, representing almost $1.3 billion.
Before becoming a real estate agent, Rustad worked in film production. He tells the magazine that he wanted something different, so he got his real estate license between movie productions and sold his first property to a writer on one of the shows.
"I started selling real estate at 22 years old with a network of zero," Rustad tells Top Agent. "Part of the benefit of starting young as I did is that I was open-minded about who I worked with. No deal was too small. For example, I sold a one-bedroom condo to a client in 2002 and have done five transactions for him since, as well as six or seven for his friends and family. Word of mouth is the best way for me, because people come with trust."
In the article, Rustad also talks about his real estate partner, Maurice—who was a studio lawyer for 10 years before he got into real estate.
"We built our practice with the same dedication to excellence and client satisfaction that you should expect from your attorney," said Rustad.
During his spare time, Rustad tells the publication that he enjoys relaxing with his wife and daughter, and also loves to surf, hike, and go camping. He also likes to buy and remodel property—which he says gives him real world experience he can share with his clients.
The article closes off by stating that it's important to Rustad to be efficient and professional from the first phone call to the close of the transaction.
"My first 10 years were about learning," said Rustad. "Now halfway through my second 10, it's about perfecting and expanding. My last 20 will be about having the business where I want it to be and enjoying the benefits."
To read the entire feature on Tregg Rustad, click HERE.
[su_document url="https://rodeorealty.blog/wp-content/uploads/2016/10/TopAgentMagazine.TreggRustad.pdf" height="760″ responsive="no"]