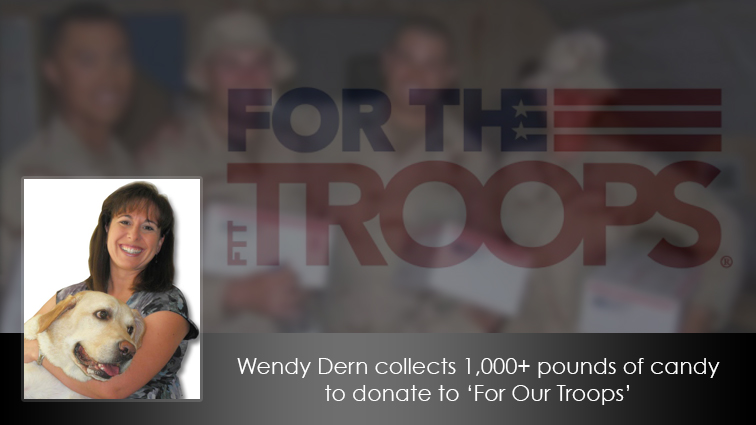 Rodeo Realty's Northridge agent Wendy Dern is collecting candy to donate to "For the Troops". The non-profit organization is dedicated to providing members of the American military with "We Care" packages containing basic necessities, goodies, games and—most of all—a show of support.
For more than 10 years, the Realtor has been organizing candy collections to make sure "For The Troops" has an endless supply of candy on hand, and doesn't fall short for even one box. Wendy enlists participation from local schools, including Cleveland Charter High School, Nobel Middle School, and Topeka Drive and Gridley Elementary Schools. Through community outreach, she has also garnered support from community members in her farm and local businesses. Striving to increase her success every year, Wendy's collection now surpasses 1000 pounds of candy!
Thanks to Syd Leibovitch, Rodeo Realty is also taking part in helping Dern with her collection and have made a monetary donation to help "For The Troops".
Dern will be collecting candy through the weekend and plans on delivering the donations next week.
For more information on ways you can support "For The Troops", visit www.forthetroops.org
About For The Troops:
The organization has substantially grown in volunteers and donors, and has distributed more than 165,000 packages.  They ship year-round to American troops who risk their lives overseas every day—far away from the comforts of home.  Each care package is lovingly filled with a variety of items including hygiene products, dvd's, games and puzzlebooks, magazines, comics, stationary, and more.  Candy is used as box filler, instead of packing materials, as an added treat in every box.