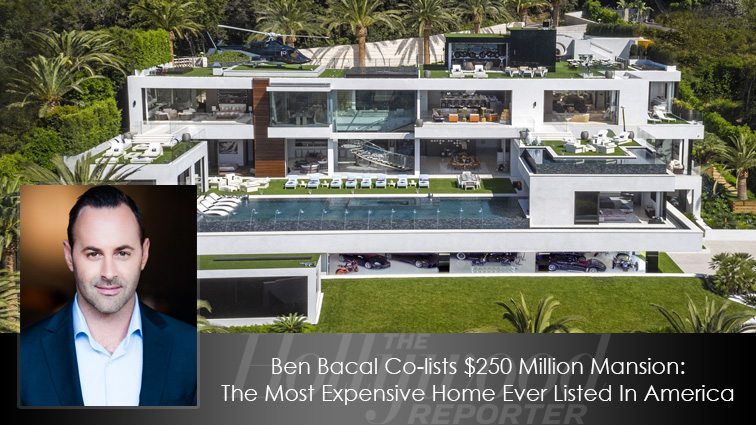 America's most expensive home has hit the market for $250 million! Rodeo Realty's Ben Bacal is one of the listing agents to the most expensive home for sale in the country.
The Bel Air spec mansion has 12 bedrooms, 21 baths, seven staffers, a gallery of exotic cars, a 40-seat Dolby theater, and a bowling alley. The four-level home also has three kitchens, six bars, an infinity pool with a swim-up bar and 270-degree hilltop views from downtown to the ocean.
[su_vimeo url="https://vimeo.com/199747865″ autoplay="yes"]
The 38,000-square-foot-home was designed by fashion designer-turned developer Bruce Makowsky, who sold Minecraft creator Markus Persson a Beverly Hills mansion for $70 million in 2014. Ben Bacal was also one of the listing agents to the 23,000-square-foot home.
Since hitting the market, the mansion has been causing a buzz nationwide. The property has been featured in The Hollywood Reporter, Yahoo, Zillow, The Wall Street Journal, Curbed, The Los Angeles Times, The Real Deal, Realtor.com, and many more publications and television networks.
For more info on the property, visit www.924belair.com
To read The Hollywood Reporter's story on this mansion, click HERE.
Yahoo, HERE.
Curbed, HERE.
Los Angeles Times, click HERE.
Forbes
Wall Street Journal, click HERE.
The Real Deal
Realtor.com
KTLA, click HERE.
[su_slider source="media: 20138,20136,20135,20134,20133,20132,20131,20130,20129,20128,20127,20126,20125,20137″ limit="12″ width="1600″ height="1600″ title="no"]