Rodeo Realty's Nicole Nash has listed Actress Rachel Griffiths Encino Home.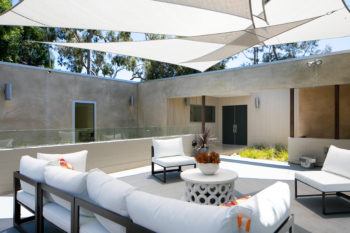 BEVERLY HILLS, Calif (June 13, 2019)- The home of Australian actress Rachel Griffiths hit the market this week with Nicole Nash of Rodeo Realty as the listing agent. The stylish compound has already received press, featured as "Home of the Week" in the Los Angeles Times this past week.
The single-story home boast a spacious open floor plan blended with serene ambience. A stunning Mid-Century Modern tucked in seclusion, the property evokes a sense of warmth that is abundantly present within the 2,900 square foot space. As you descend down into the homes sunken living room, walls of glass look out unto a serene outdoor setting surrounded by nature.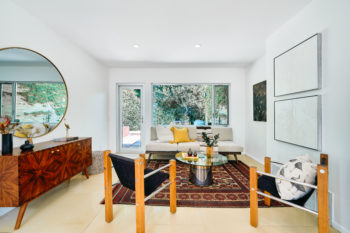 Throughout the home is a remarkably light-filled floor plan that masterfully blends the inner and outer ambience into one. 16452 Marbro provides an undeniable feeling of comfort that resonates in every square foot of this open concept abode.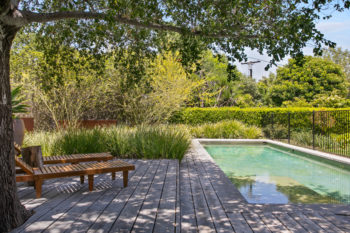 The Los Angeles Times describes the residences tailored landscape in detail. Noting the space as it "sits on more than a third of an acre with front and back patios, corten steel planters, garden fountains and fenced swimming pool. Oak, yellow palo verde and strawberry trees dot the grounds". A truly picturesque setting.
Along with her change of scenery, Rachel Griffiths has just completed directing her first motion picture "Ride Like A Girl" in Australia, and is set to star in the series "The Wilds" for Amazon and ABC in September. She is best known for her starring roles  on "Six Feet Under" and "Brothers & Sisters".
16452 Marbro is listed at $1,748,000.
Nicole Nash has business skills in her blood. The daughter of an estate jeweler and the niece of Hollywood producer, she has always recognized the value of making positive business contacts. Priding herself on relationships, she is highly adept at forming loyal affiliations quickly and effortlessly.
In addition to her active real estate life, Nicole enjoys being involved in the community she lives & serves. Whether getting her office involved in Project Angel Food, running a marathon for Aids Project Los Angeles, or marching in an Equal Rights demonstration, Nicole's altruistic spirit shines through. She completed 3 Spartan races last year with her team raising more than $300,000 for Leukemia & Lymphoma society and Alliance for Housing and Healing, respectively. Closest to Nicole's heart is her family time with her husband, Jason and daughter GG & son Leo & sweet little pup Rizzo! They enjoy hikes in the canyon and neighborhood strolls to the farmer's market!
It's this type of compassion Nicole likes to share with her clients as well, ensuring that their experience is a positive one. Plus, it would be hard to find another realtor with Nicole's enthusiasm, knowledge and genuine love for the city that she sells. "There's not a day that goes by that I don't look around at the Hills or the Architecture of LA homes and feel intense gratitude and a sense of appreciation for this paradise I call home", says Nicole. Who you work with in today's market matters and I'm serious about getting the job done!
Rodeo Realty is a residential real estate firm that has more than 1,200 licensed agents and brokers and 12 offices throughout Los Angeles and Ventura counties.
Rodeo Realty services various markets in Southern California, including luxury real estate markets. The company's celebrity and other multi-million dollar listings are regularly featured in the news through several television networks, online sites and publications.
Operated under the direction and vision of a single owner, Rodeo Realty stands today as one of the largest independent real estate companies in the nation, while still maintaining the friendly approach of the neighborhood REALTOR®. As the largest independent real estate brokerage headquartered in Beverly Hills and operating throughout the Los Angeles area, with the highest sales volume, Rodeo Realty has the resources to provide the best tools in the industry to deliver the very best results.
---
For media inquiries, please contact:
Samira Murphy
Publicist
Rodeo Realty
mediarealtions@rodeore.com