With as many restaurants as there are Bird scooters, we've decided to simplify your options of the week by dishing out the best places to grab a bite from power lunches to elegant fare. Read below for our nosh worthy suggestions.
"Breakfast is the most important deal of the day…"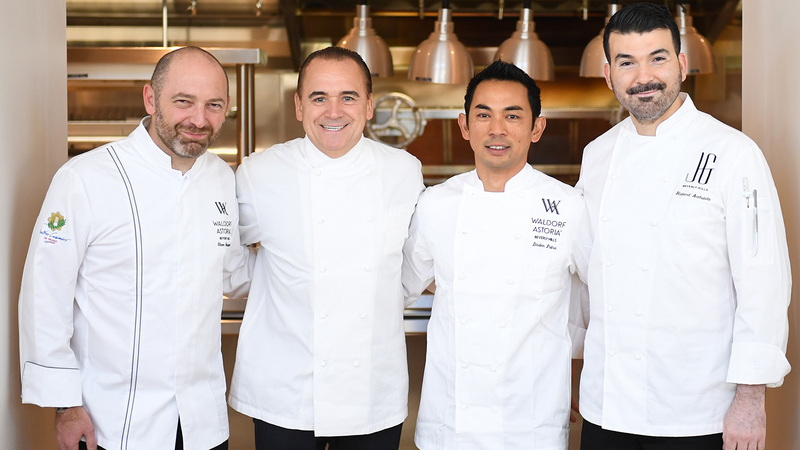 With a name as cinematic as its location-The Butcher, The Baker, The Cappuccino Maker serves a mouthful of a title and menu selection.  A perfect mix of cafe chic and Californian cuisine. Have your pick between their delectable Ricotta Pancakes or opt for a perfectly seasoned 28 day aged Steak paired with organic eggs and accoutrements. Nestled in the iconic Sunset Plaza, the BBCM serves it fresh 8am-10pm M-Su.
Nestling into its first year with a Forbes rating under its belt, Jean Georges of The Waldorf Astoria Beverly Hills provides a fine dining approach to your breakfast routine. For those on the go, JG provides the ease of simple selections like their famed Sunny Side Up Frittata or house baked pastries. Or if you have time to indulge chose between the decadent Caviar Scramble or Organic Stone Fruit Toast with Elderflower Glaze.  Reservations are available as early as 7am M-Su.
Lunch, Brunch, 2nd Breakfast!
When the lunch clock hits, Avra of Beverly Hills has successfully figured out how to serve. Offering a 3 course pre-fixe menu for the ideal midday price of under $30, patrons can choose from a range of Mediterranean fare. This bounty of greek goodness includes the freshest selection of seafood one can feast their eyes on(literally, they have the fish on display) to options fitting any foodie–meat eater's and vegetarian's rejoice! The fixed course menu is available M-Fri 11:30am-4:30pm. Reservations are strongly encouraged.
Offering ocean views and rooftop vibes essential to any L.A. seaside eatery; Elephante is an ideal spot for those wishing to lunch through the week and brunch through weekend. Boasting food that punches well above it's weight class and a whose who of clientele, Santa Monica's newest hot spot is on point and trend. With a terrific array of wood-fired pizzas, house extruded pastas, and seasonal salads that should please just about any palate–reservations are available M-Fri at 12pm and S-Su at 10am. 
"What's for dinner?"
Say bonjour to L.A.'s newest Parisian delight–Tesse. Located atop  the Sunset Strip; Chef Bill Chait returns to Lalaland with his take on French-Californian fare. Offering a Charcuterie centric selection from saucisse de Lyon to foie gras terrine with figs and Armagnac, one will feel as if their taste-buds drifted to Europe and back. The appetizers and mains equally please with selections such as crispy veal sweetbreads and a 34 ounce dry-aged ribeye, ending blissfully on a sweet note with their duck egg crème brûlée with almond tuile. Your diner rendezvous is served daily 6-10:30pm.
Tucked away amongst the bungalows of the Chateau Marmont is Chateau Hanare-a japanese fine dining restaurant that has built up shop on the lush L.A. property. This exclusive see or be seen hidden gem provides a range of delicacies from a Kaiseki tasting menu, in-house freshly made tofu, and  unique menu highlights such as the chef's recommended Uni Ice cream. There is something for everyone to be found in Hollywood's best kept secret. Reservations are available Su-Th 6pm-11pm and Fri-S 6pm-12am.