Tucked beyond a scenic drive and just under a 30 minute stretch to the beach (without traffic) is Topanga Canyon. Said to be a sacred place by the Tongva people, the area feels every bit like a hidden sanctuary. From nature trails set against grassy peaks to brunch by the creek, whats not to enjoy? Whether Topanga Canyon is a place you call home or simply one that you visit, there plenty to do. Read on for notable neighborhood highlights for a day Out & About in Topanga Canyon.
1. Inn of the Seventh Ray.
Surrounded by nature, this restaurant is one of the most romantic in all of Los Angeles. The outdoor seating, a large terraced garden area next to a creek, is replete with sycamore trees, fairy lights, oak trees and buddha statues. During the cooler months, enjoy the interior and its roaring fireplace. The Inn offers plenty of vegan and vegetarian dishes, and the meat they serve is sustainable and raised naturally. It's also a great option for Sunday brunch.
2.Will Geer's Theatricum Botanicum.
Founded by Will Geer, an actor most famous for playing Grandpa on the '70s show The Waltons, this outdoor theater, surrounded by oak trees, offers wonderful theatrical performances with an emphasis on the classics, particularly Shakespeare.
3. Red Rock Canyon Trail
A great place to hike, you'll want to explore the caves and search for fossils and arrowheads left by the Chumash Indians who once dwelled here. You can also take the canyon trail up to Calabasas Peak for a pretty spectacular view of the surrounding landscape (see Modern Hiker's write-up for more info on making that trek).
4. Hidden Treasures
Foraging around this reasonably priced vintage clothing shop is like exploring the overstuffed house of a bunch of stylish eccentrics. Don't forget to check out the pirate trunk near the front door with clearance items going for just a few bucks each.
5. Jalan Jalan Imports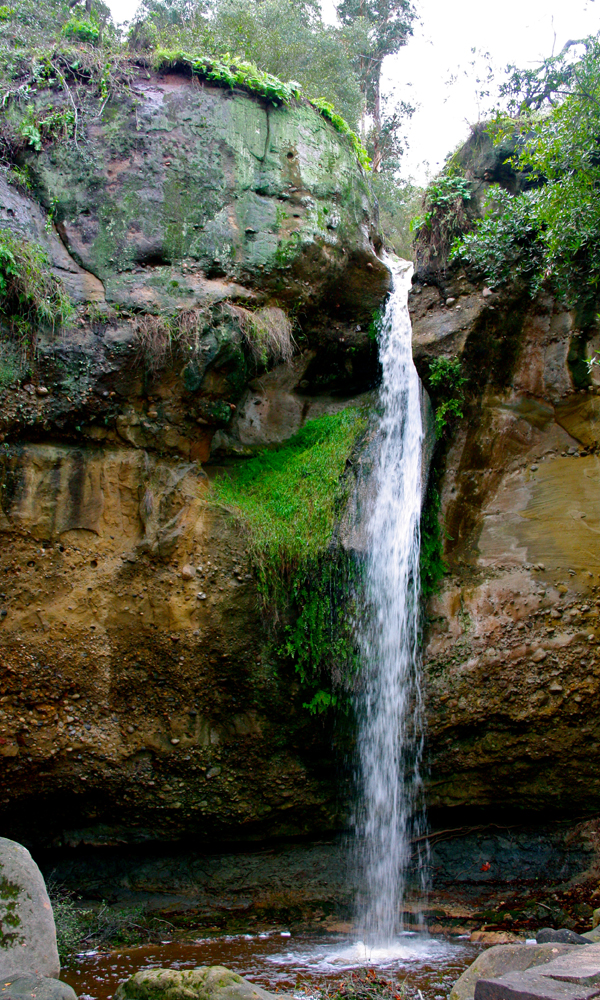 If you're looking for a wide variety of Balinese imports, look no further. Jalan Jalan has a remarkable selection of hand carved statues and petrified wood furniture for your home. What is most unexpected about this outdoor showroom is not just the furniture but the setting. Set against its on quarry, a tranquil waterfall pours calmly into a small pond adjacent to the store. The owners of Jalan Jalan encourage visitors to take a seat and take in the serene setting as dragon flies and hummingbirds flurry by. At this roadside shop you leave with more than a new decor piece. You leave in peace.
6. Topanga State Park
Hike on one of the many trails to see some of the most beautiful nature in the area — you might even get lucky and see a deer or two. Be sure to check out Santa Ynez Falls if they're running, along with the meadows and oak groves. Keep an eye out for rattlesnakes and mountain lions.
7.  Topanga Days
This annual three-day fair, held over Memorial Day weekend, is a celebration of live music and nature. You'll find all sorts of food and craft vendors, along with a raucous parade of singing and dancing Topangans on Memorial Day.
8. Cafe Mimosa
Very popular with locals, this coffee shop boasts a shabby chic atmosphere and a koi pond in the garden, the perfect place to linger over a coffee, a Pirates Chai (made with Matcha green tea) or hemp milk. Hungry? Try the pain au chocolat, vegan muffins, quiche or salads.
9.  Tuna Canyon Park
This dog-friendly park is a lovely place to stroll and take in some breathtaking sights: the nearby beaches, Catalina Island, Malibu Pier and Santa Monica Pier.
10. Los Angeles Horseback Riding
A wonderful place to disconnect from our screen-centric lives, you can go on sunset rides, moonlight rides and more. If you prefer, ride a mule while taking in views of the beach and mountains.
11. Boubolina
This tiny clothing store, a local mainstay for over 30 years, features beautiful hippie dresses, Native American jewelry and lots of organic cotton clothing. The selection is eclectic, the size range is large and they have excellent sales.
12. Summit Valley
Edelman Park offers some 650 preserved acres to explore. While not as well known as the other Topanga walking and hiking areas, there are certainly beautiful views and bountiful wildflowers when in season.