"Hot Chicken" has quickly become the hottest food trend in L.A.! From serious chile-based heat found on Nashville-style hot chicken all the way to spicy spots inspired from all around. Here are eight places to set your mouth on fire (figuratively speaking of course) serving some of the best spicy bird in town right now.

Location: 727 N Broadway, Ste 128., Los Angeles, CA 90012
Everyone already knows this place for their lines at the Far East Plaza. You can get it by the piece, as a box of wings or in a sandwich, and as hot as you want it, from country (no heat) to howlin', a smoldering too-hot-to-handle, scale-tipping heat. Side dishes change, but look for things like braised greens, succotash, mac 'n' cheese, crispy okra, various market salads and crinkle-cut fries dusted with their secret shake spice.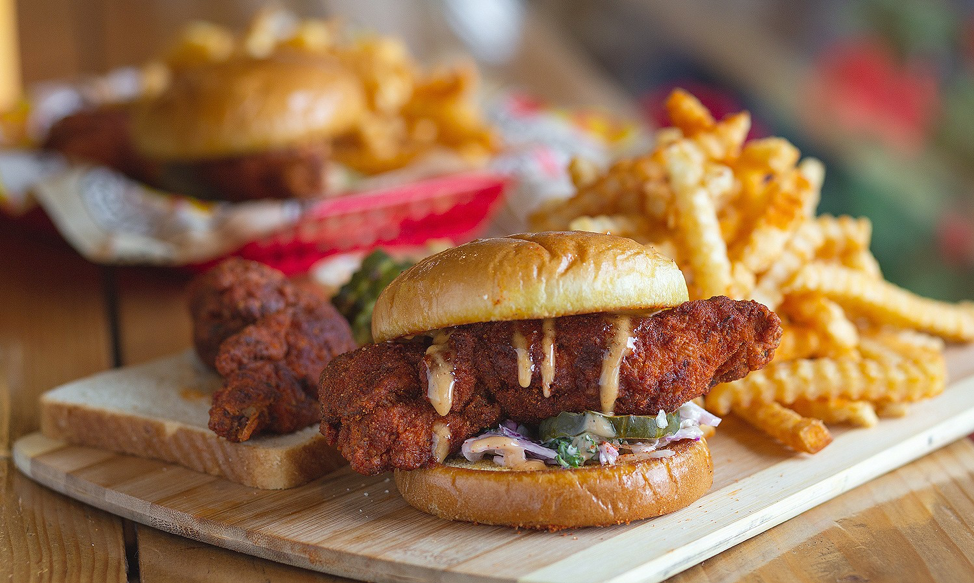 Location: 970 N Western Ave., Los Angeles, CA 90029
One of L.A.'s biggest hot-chicken success stories, Dave's began as a stand and worked its way up to a brick and mortar—and now it's one of Hollywood's late-night go-to's with a line out the door. They've only got one rule: no pickups. Don't worry, the line moves quickly, as the menu is particularly limited. The bright-red hot chicken only comes in strips and (hefty) sliders, juicy and a little greasy and wildly hot, especially as you climb toward the "reaper" spice option. You're gonna need a side of those cheese-topped crinkle-cut fries to cool things down.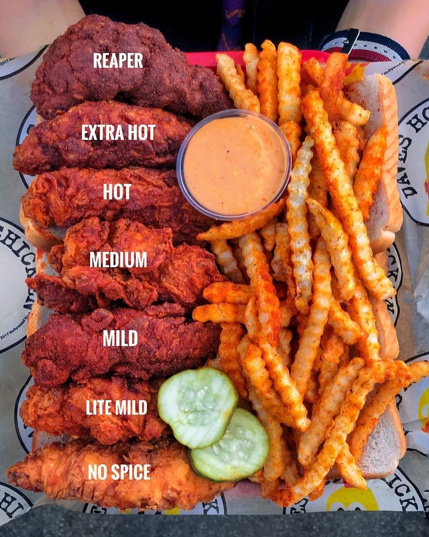 Location: 448 N. Fairfax Ave.
When this chicken and soul food shack (hip-hop star Nas is a proud investor) opened on Fairfax, we thought it was all about waffles, greens and mac 'n' cheese to accompany the classic crispy, juicy bird. It's all of that and so much more. To start, there are a few options for heat seekers, including the Nashville hot chicken with a milk jam waffle, or hot sauce–drenched fried chicken sliders on buttery mini biscuits. Want some sweet heat? Try the honey hot chicken instead.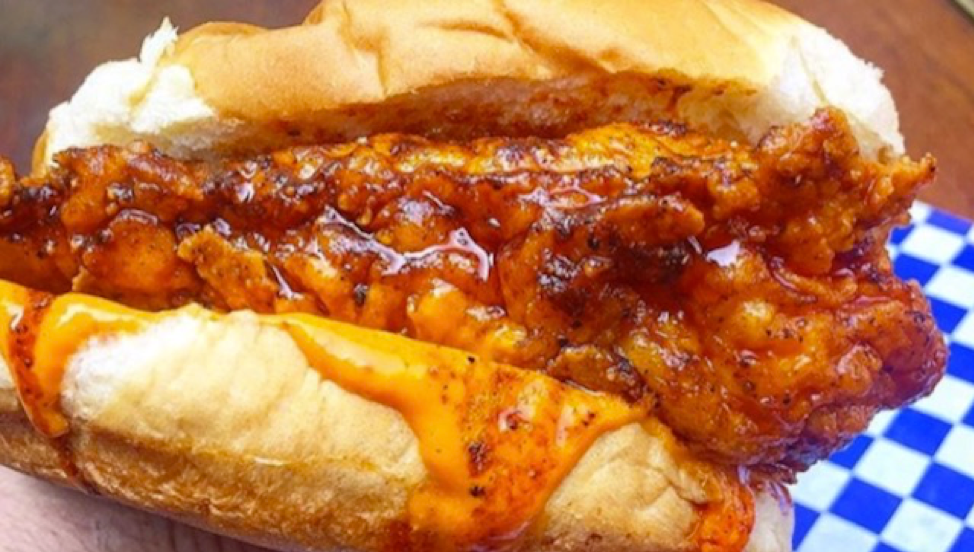 Location: 1451 N. Gardner St.
If you're familiar with the amazing smoky fried chicken from Plan Check, you already know what chef Ernesto Uchimura can do with the bird. Now you can find him at Electric Owl, the restaurant he opened in West Hollywood earlier this year. For lunch, he's launched a daytime pop-up called McFly's, where he serves egg-dipped, fried chicken sandos with a searing chile baste alongside things like tater tots and pink lemonade. Check it out Wednesdays through Sundays from 11 AM until gone.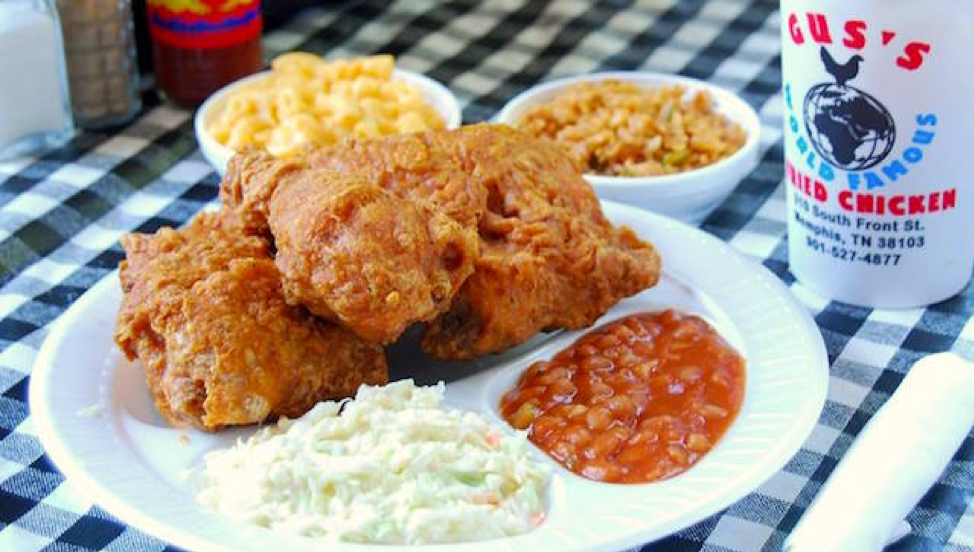 Location: 1262 Crenshaw Blvd. and 509 S. Glen Oaks Blvd.
A long-standing family business, the Memphis chain is known the world over for its cayenne-spiced, red-tinged crisp chicken. It's surprising that it's taken this long to make it out west, but it finally has, landing in a brick-walled spot in Mid-City and most recently in Burbank. Although it calls its fried chicken "hot and spicy," it's not mouth-searing like Nashville-style chicken. There's no extra coating of seasoning and spice on the outside; instead, the batter is laced with cayenne pepper for its kick. Every meal (usually two pieces of white and/or dark meat) at Gus's comes with white bread, which helps soothe the burn, but a little ranch dressing doesn't hurt either.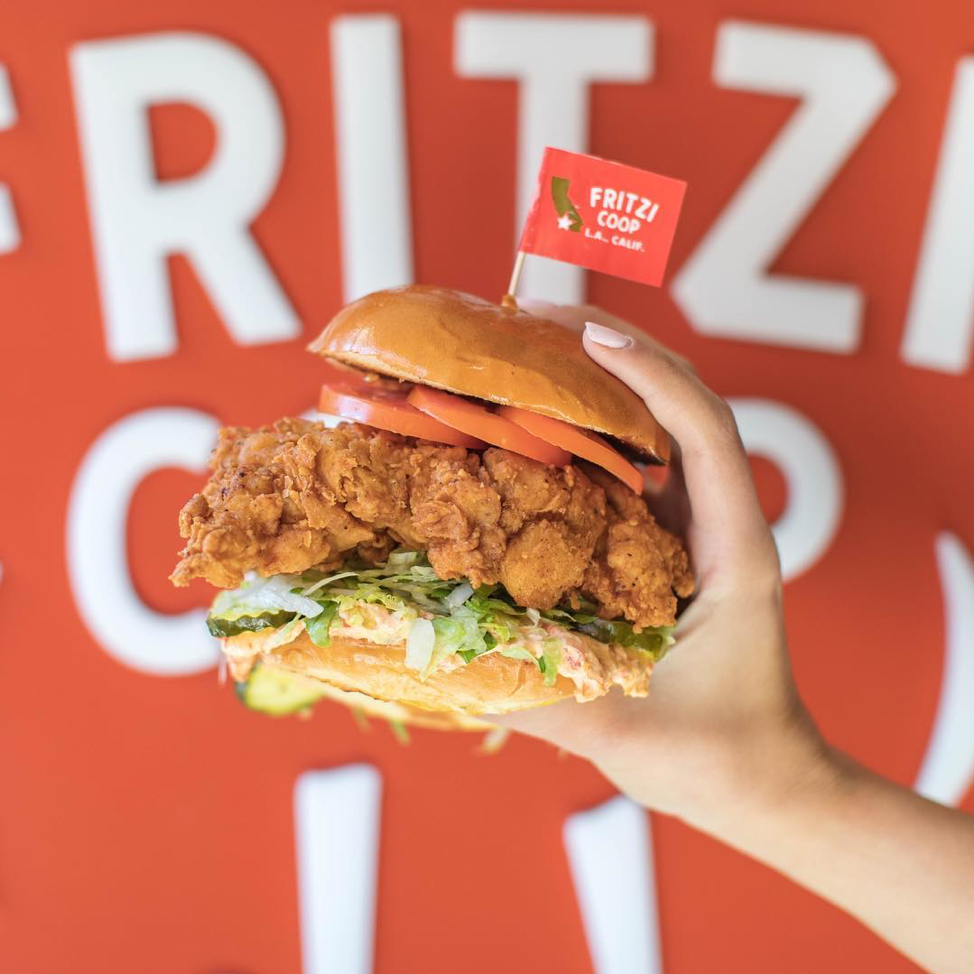 Location: Fairfax District
Redbird's Neal Fraser technically calls his hot chicken "Memphis-style," though he admits there's really no difference when it comes to the Nashville-inspired dish. You can find his take tucked into the Original Farmers Market, where the chef's fast-casual chicken shack, Fritzi Coop, sells it in wing, boneless-wing and sandwich form—and the sandwich is where it's at. Fraser isn't fooling around with the spice (available as "hot" or "super hot"), and on the sandwich, the fried dark meat gets some added oomph from a spicy slaw. Cool off with whatever the daily agua fresca is. You're going to need it.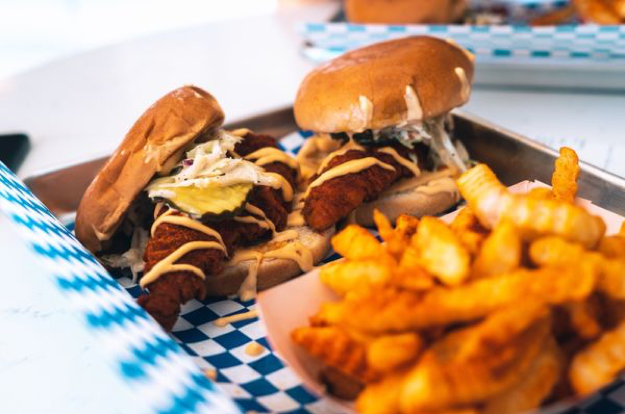 Location: 5065 Hollywood Blvd ste102, Los Angeles, CA 90027
Thai Town's Angry Birdz is a bit of a dive, but that's just fine by us—we're not here for the frills, we're here for the fried goods. The setting is sparse, the menu straightforward. The Nashville spice? Way hot. Like Howlin' Ray's, the basic level is "country," but here, the hottest setting warns you that you should probably sign a waiver. (It's hot, but it's not litigation hot.) The birds here come in slider and tender form, but what it lacks in poultry option it makes up for in sides, with choices like mashed potatoes, slaw, mac and cheese, fries and even buttered rice—in ode to the owners' Middle Eastern heritage—available until midnight every day of the week, for all your late-night hot cravings.