A good slice of pizza is a powerful thing. May that be one slice of five slices, pizza is your friend. It is important to support local restaurants and businesses as a way to feed into your local economy. Check out our round-up of our favorite pizza places throughout Los Angeles and the Valley.
Los Angeles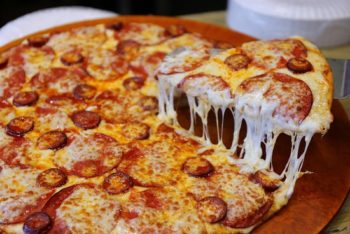 Numero Uno Pizza
5044 Wilshire Blvd, Los Angeles, CA
They specialize in Chicago Style Deep Dish Pizza & Classic New York Style Thin Crust Pizza. They are also known for their Chicken Wings and Large Salads. Numero Uno Pizza was founded in 1973 with its first store in Northridge, CA. The company features a casual dining restaurant famous for its deep-dish pizza with its unique flavored crust and savory sauce.

All' Angolo
4050 W 3rd Street, Los Angeles, CA
Small, but charming restaurant serving northern Italian pizza, pasta & salads. Don't let the size or location put you off; these guys are serving up some great Italian food. Simple ingredients with great taste. They have a small but complete menu of apps, salads (a soup d' jour), pasta and pizzas; and don't forget the daily blackboard specials.

Gracie's Pizza
4330 Melrose Ave, Los Angeles, CA
Opened in the Summer of 2016 with the goal of creating a true New York-style neighborhood joint. They create meals from scratch; with love, integrity, and pride.  Their focus is to give back in a measurable way to their tightly knit block at Heliotrope and Melrose.
Westside

LA MORRA PIZZERIA
5125 Hollywood Blvd, Los Angeles, CA
These Neapolitan-style pizzas are made in a handmade oven by Zach Swemle & Marlee Blodgett, built especially for the ingredients of a Neapolitan pizza. La Morra's simple and ingredient-driven Italian cooking and impressive crusts are offered weekly at the wine bar Tabula Rasa.

VITO'S PIZZA
846 N LA Cienega Blvd, Los Angeles, CA
Vito's Pizza is a local favorite. Their east coast inspired pies, perfectly crafted dough, and tomato sauce has its patrons traveling to all three of its Los Angeles locations. The pizza is ultra-thin, with a crisp underside and a good, chewy crust, and you can order by the slice. Vegetarians will appreciate the combination of fresh spinach, tomatoes, and broccoli with mild ricotta cheese.

Pizzeria il Fico
310 S Robertson Blvd, Los Angeles, CA
Sleek, rustic-chic Italian eatery specializing in dishes from Puglia, with an extensive wine list. Despite the name, Il Fico is not strictly a pizzeria, it also turns out some Apulia-accented antipasti and most especially pasta dishes. At Vincenti, Mastronardi does the whole "elegantissimo" thing with an ambitious menu and polished and subtle cooking.
Valley

Chi-Chi's Pizza
9080 Tampa Avenue, Northridge, CA
Local pizza chain for custom-made pies, plus pasta, antipasti & more in a casual, no-frills space. Great local spot for pizza at a reasonable price. Do yourself a favor, once you have had your Italian/Pizza fix,  try the Golden Pressure Fried Chicken and Golden Potatoes. The salads and dressings will please also.

LBK Pizzeria
359 Tujunga Avenue, Studio City, CA
At this Studio City outpost, there's no place to sit inside, where the line to order pizza is endless. But there are some very pleasant picnic tables in front, making a fine pie on Tujunga Avenue a very pleasurable family experience.

Pasadena Pizza Co.
336 N. Allen Avenue, Pasadena, CA
You get a choice of thick crust, thin crust and gluten-free at Pasadena Pizza Co. The pies are big, and even bigger. The toppings are many, but mostly classic, except maybe for the ones with pastrami and with Alfredo sauce. While you're waiting, there are video games, and pinball machines, which take me back to my misspent youth.

Lamppost Pizza
1145 Lindero Canyon Road, Westlake Village, CA
Lamppost Pizza offers great food, a friendly approach and a family-oriented atmosphere. Their community involvement includes being a proud supporter of the many youth athletic leagues in the area. Their team pizza parties are popular with all ages and sports. Bring your kids and family if you are local and are looking for tasty pizza!

Toppers Pizza
18417 Soledad Canyon Road, Santa Clarita, CA
Family-friendly pizzeria chain known for unusual toppings & dough made daily. Toppers Pizza Place has been the winner of Best Pizza Category for both East and West Ventura County Every Year this Century! If you are in the area, come and experience great pizza.