Whether you are planning an all adult party or one that caters to the whole family, setting the right spooky fun mood with your home's decor, Halloween-themed food and games for the guests are essential for a Halloween soiree success.
Haunting Home Decor
A good balance of creepy, mystical, and fun decor will delight guests of all ages. Decor can be purchased or you can use your own creative talents. The decor draws guests inputs them in a fun and festive mood.
Bats, Pumpkins, and Spiders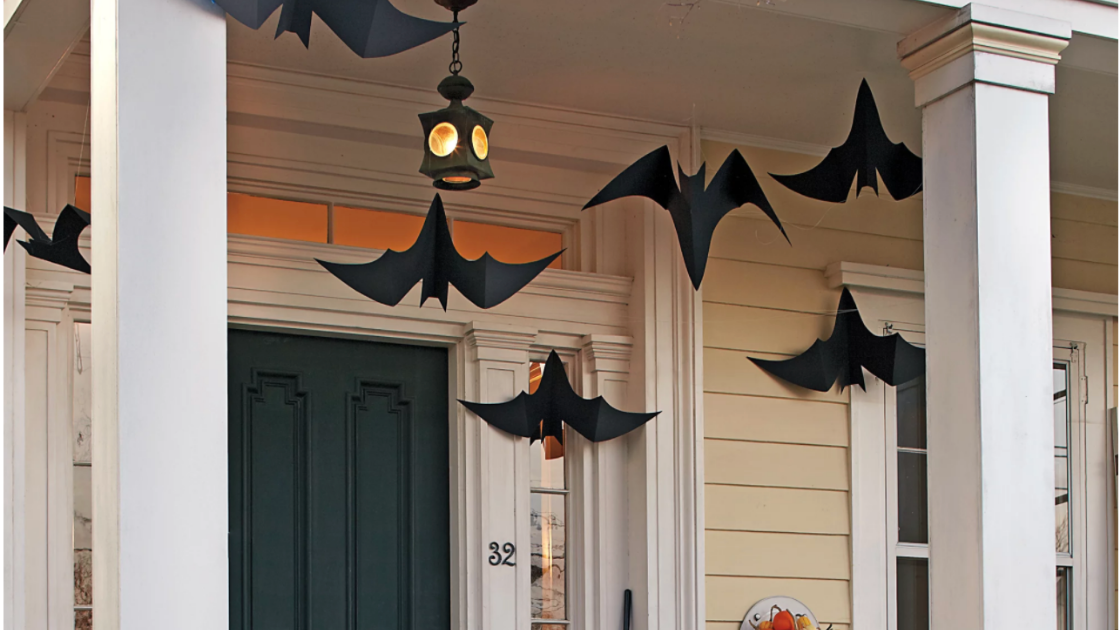 Print bat templates of different sizes and several bats from black paper. Use on your mantle, on windows and doors to "spook-up" your home. Add pumpkins of different sizes and colors and spider webs made from paper or stretchable synthetic fabric. Creating a spooky scene at your table or mantle is easy and fun. We love these recommendations from Martha Stewart Living on decor for your Halloween Soiree.
Dress Up Your Food Table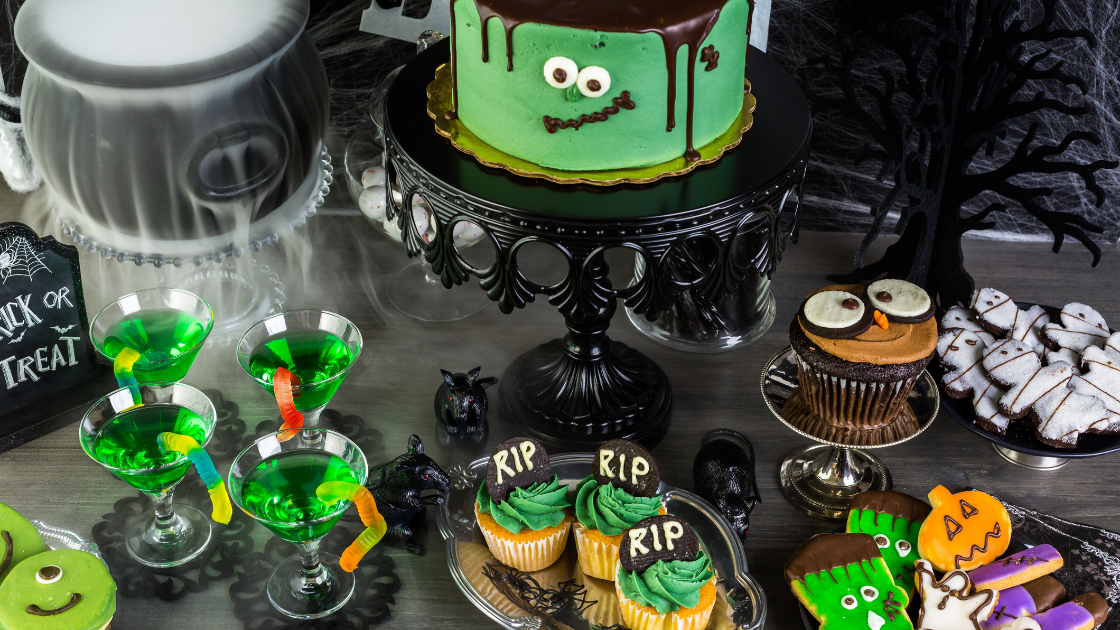 Search for printable poison labels to attach to wine bottles and cups. Drip red candle wax over white candles for a bloody, creepy look, and kids will love some plastic eyeballs in the punch bowl.
Terrifyingly Tasty Bites
Parties and food are synonymous. These recipes delight and enchant guests with clever aesthetics and great taste.
Frankenlime Fizz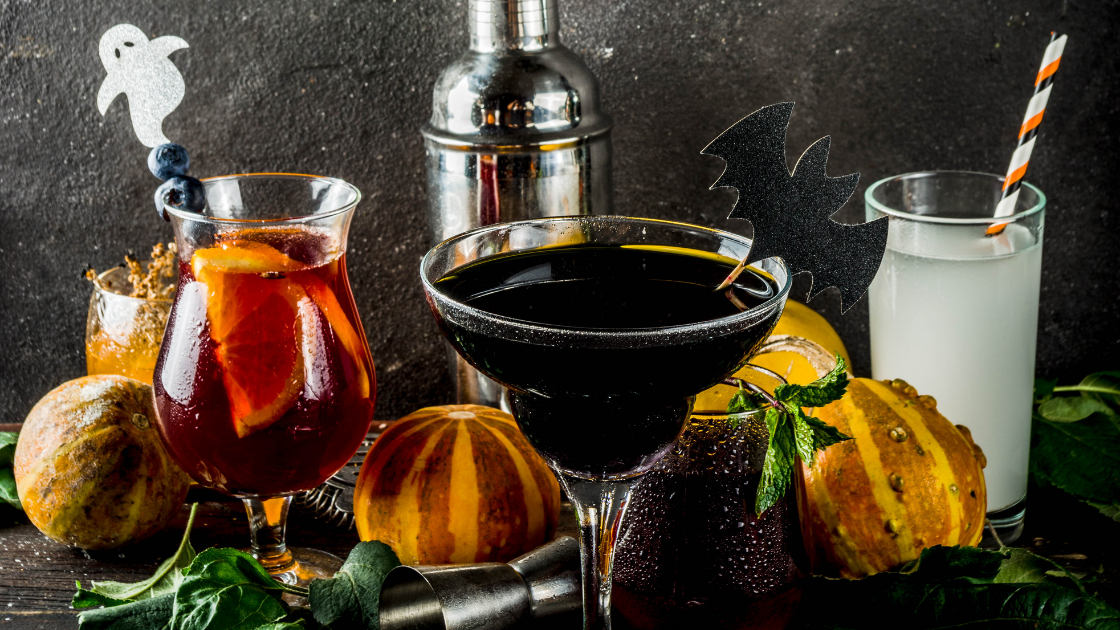 This cocktail is easy and quick!
You'll need:
2 oz. lime bubbly

1.5 oz vodka

2 oz ginger beer
Steps
Build in a glass over ice. 2 dashes of green food dye for color.

Garnish with a lime wedge.
For More Halloween Themed Cocktails, click here.
Chocolate-Glazed Pumpkin Cookies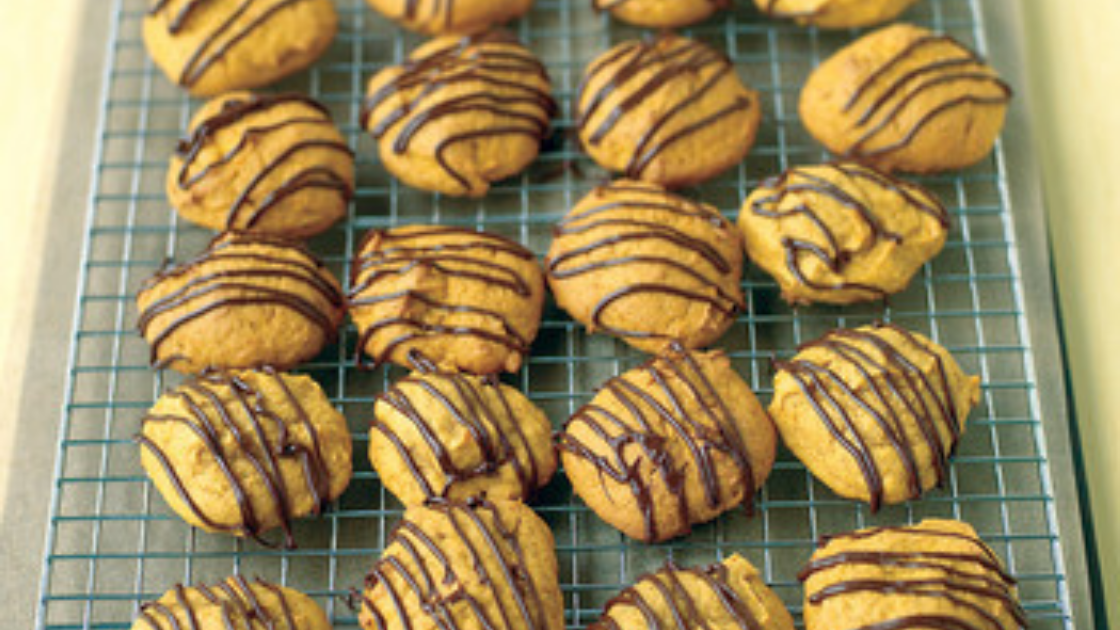 These cookies from Martha Stewart are sure to be a hit.
 All-purpose flour, (spooned and leveled) | 2 cups

Baking soda | 1/2 teaspoon

Baking powder | 1/2 teaspoon

Pumpkin pie spice | 1/2 teaspoon

Salt | 1/4 teaspoon

Unsalted butter, room temperature | 1/2 cup (1 stick)

Sugar | 1 cup

Egg | 1 large

Pure pumpkin puree | 1 can (15 ounces)

Semisweet chocolate, chopped | 4 ounces
Steps:
Preheat oven to 375 degrees. In a medium bowl, whisk together flour, baking soda, baking powder, pumpkin pie spice, and salt; set aside.

Using an electric mixer, beat together butter and sugar until light and fluffy. Add egg; beat until smooth. With the mixer on low speed, alternately add flour mixture in two parts and pumpkin puree in one, beginning and ending with flour mixture; mix just until combined.

Drop dough by heaping tablespoons onto two baking sheets, about 1 1/2 inches apart. Bake until puffed and edges are golden, 15 to 20 minutes, rotating sheets once during baking. Immediately transfer cookies to wire racks, and cool completely.

When cookies have cooled, set them (still on rack) over a baking sheet. Place chocolate in a medium heatproof bowl set over (not in) a saucepan of simmering water; stir until almost melted. Remove from heat; stir until completely melted. Pour chocolate into a resealable plastic bag. Snip off a corner with scissors or a knife to make a 1/8-inch hole; pipe chocolate over cookies. Refrigerate until chocolate is firm, about 20 minutes.
For more Halloween Themed Snacks and Bites, click here.
Spooky Fun
Everyone likes to have fun at a Halloween party. Plan games for all to enjoy.

Halloween Heads Up
Print Halloween-themed words on note cards. A guest chooses a card and places it on their forehead. Clues are given and the player tries to guess what word is on the card.
Bean Bag Toss-Pumpkin Style
Carve a large and small pumpkin with a large mouth opening on each. Secure the two pumpkins together, one on top of the other. Line up to see who can throw a bean bag into a pumpkin's mouth, with more points being scored when landing the bag in the smaller pumpkin.
Your HALLOWEEN SOIREE
With a bit of planning for decor, food, and games, your Halloween party will be the hit of the season. So, prepare to create great memories with friends and family this October 31st with these party ideas.