Rejoice for the weekend is here! Now that we can finally kickstart some well deserved days off, figuring out what to do should bring the same ease. Per usual, we are sparing you the time of scouring the web for a "what to do this weekend".Read our round-up of the best L.A. has to offer in activities outside your normal routine and discover your inner Angeleno!
Friday June 7
LA Pride Weekend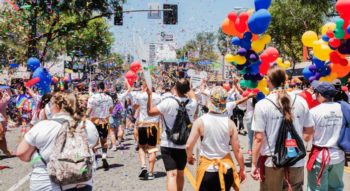 Location: West Hollywood(Various Areas)
Pride Month is kicking off this week in LA, leading into West Hollywoods annual Pride Parade. Start off this Friday at the Opening Ceremony of Pride Weekend with Saturday and Sunday taking over the boulevard for a celebration that only Weho knows how to do. The Teen Pride Dance will take place on Saturday and the annual Parade on Sunday. For the full line-up of special guest and weekend long activities for LA Pride, click the link below.
2019 Ghostbusters Fan Fest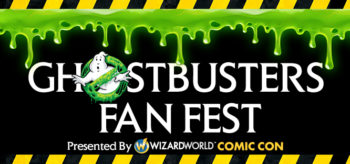 Location: Sony Picture Studios, Culver City
"If there's something strange in you neighborhood,
Who you gonna call? Ghostbusters!". Ok now that thats out of the way and stuck in your head, don't miss the first-ever Ghostbusters Fan Fest. Presented by Wizard World at the Sony Pictures lot is a a 2-day line-up of spook-tacular fun. Some of the "OG" Ghostbusters themselves Dan Aykroyd (Stantz) and Ernie Hudson (Zeddemore) will be in attendance along with Director Ivan Reitman, Jason Reitman, the director and co-writer of the upcoming 2020 remake of the timeless cult classic. Enjoy this along with a slew of other popular guest and themed activities to celebrate the films 35th anniversary.
The Paella Dinner Party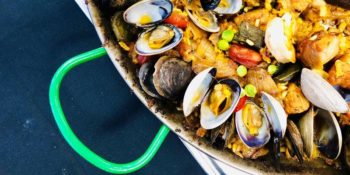 Location: Institute of Culinary Education, Pasadena
Enjoy a hands on cooking-class where the flavors of this popular Spanish dish come to life. Learn and indulge in cuttlefish-ink paella from Valenica along with Spanish tapas and traditional dessert. The menu will include garlic shrimp, tortilla Espanola, paella Valenciana and more. Contact KTannenbaum@ice.edu for additional questions.
Saturday June 8
Rodeo Realty Pacific Palisades Charity Drive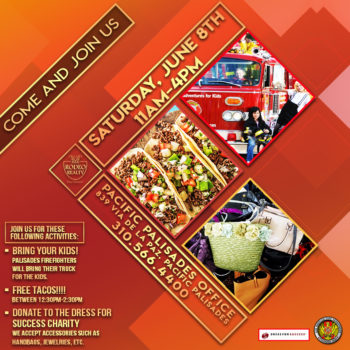 Location: 839 Via de La Paz, Pacific Palisades
Stop by the Rodeo Realty Pacific Palisades office and enjoy free tacos and entertainment for a good cause. The Pacific Palisades Fire Department will be joining the PacPal office to take donations for the charity organization Dress for Success. The family friendly event kicks off at 11:30 so don't miss out! Dress for Success will accept Bags and Accessories as donations for the event.
Pasadena Playhouse Block Party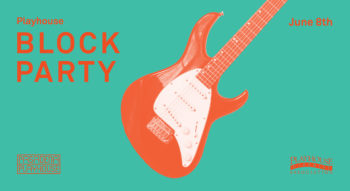 Location: Pasadena Playhouse, Pasadena
Step out for a day of art, culture and community at the Pasadena Playhouses' annual block party. Street Poets will perform accompanied by the original music of Rhythm Arts Alliance for the all-day event. There will also be family friendly activities, food, libations and guided tours.
SRLA Spring into Summer 5k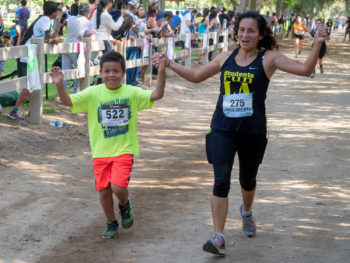 Location: Griffith Park, Los Feliz
Enjoy an easy 5k course around Griffith Park Golf course with SRLA students, alumni and leaders. The event will feature a free BBQ, music and games taking place following the run. Walkers are encouraged.
Sunday June 9
Ojai Wine Festival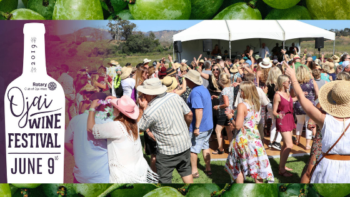 Location: Lake Casitas Recreation Area
The Ojai Wine Festival returns for its 33rd year with attendees enjoying a selection of Californias unique growing domains. The event will feature a collection from over 60 wineries as well as 35 local, regional and international craft beer brewers. There will also be a silent auction and merchant area. Hungry? No fret! There will be a selection of local caterers, restaurants and eateries selling onsite culinary creations.
Cruisin 4 Brews Family Festival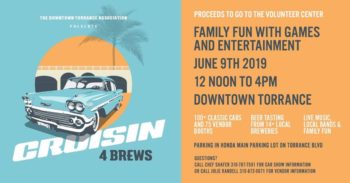 Location: Downtown Torrance
Enjoy a day of classic cars and tasty brews. Downtown Torrance's Cruisin 4 Brews event will feature 100+ classic cars, 75 vendor booths and a bounty of local breweries for tasting. There will also be live music and additional family friendly fun.