Looking for the perfect pumpkin? You're in the right place. Whether you're looking for a quaint patch or a massive farm featuring family games, there are plenty of patches in LA to suit your fancy. Every October, tiny parking lot patches sprout up all over the city and local farms bring out their best orange squash – from tiny little fellas to massive twenty-pounders.
Tanaka FarmsLocation:

Irvine
Want to take your pumpkin picking up a notch? Make your way to Tanaka Farms in Irvine for a Hello Kitty-themed farm experience (admission is $4) featuring festive activities like wagon rides, a corn maze, petting zoo and sunflower fields. Just note that this themed patch gets very busy, so parking reservations are required in advance on weekends ($10).
Bones Pumpkin Patch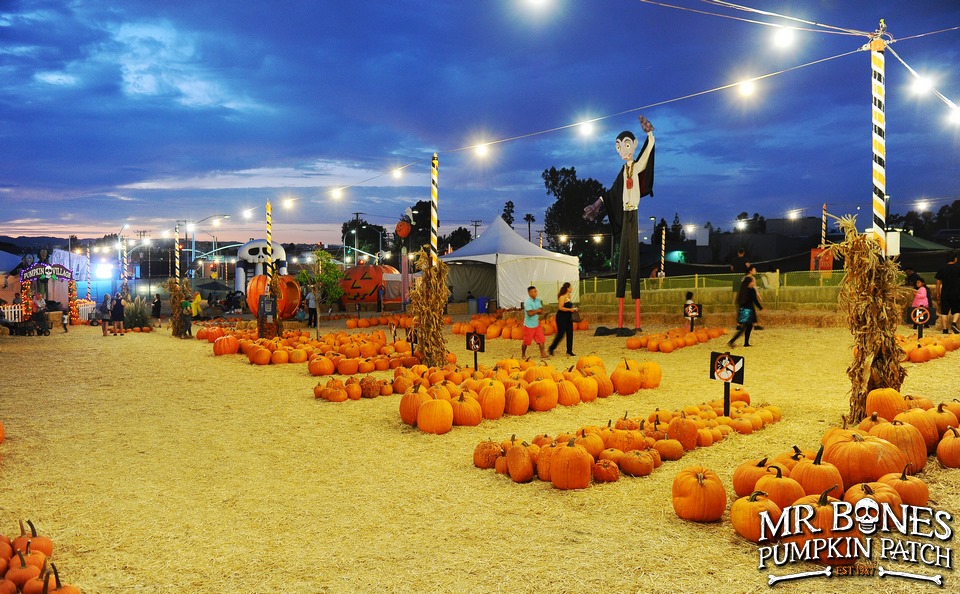 When it comes to celebrity sightings, you probably wouldn't think of visiting the local pumpkin patch. But at longtime favorite Mr. Bones, Hollywood stars and their offspring can't stay away from the Halloween fun. This family-owned, Los Angeles mainstay would pop up every year in Beverly Hills before recently moving to its new location in Century City.
Tapia Brothers FarmLocation:

Van Nuys
Get lost. No really, get lost in Tapia Brothers Farm's epic corn maze (an entire lot across from the patch itself) with a much-needed map and a sheet full of trivia questions. Scavenge through the maze for the answers and once you've found them all, submit your name in a drawing for a chance to win a cash prize – an early treat for your navigation efforts.
Forneris FarmsLocation:

San Fernando Valley
Forneris Farms is back again with a four-acre cornfield maze, weekend pony rides, live entertainment and of course, an impressive selection of pumpkins. Tractor rides will take pumpkin patch goers on a narrated tour through the cornfields and around the farm. Kids can enjoy their own harvest haven by running through a hay bale mini maze, climbing the hay pyramid and getting wild in the giant pumpkin jumper.
Underwood Family FarmsLocation:

Ventura County
Every October, Underwood Family Farms becomes an autumnal wonderland as it celebrates its annual Fall Harvest Festival with different events every weekend ranging from Western Weekend to All About Pumpkins. For the entire month, guests can come and be entertained by live music, animal shows, corn mazes and an endless amount of pumpkins. Admission is $16 per person for the first two weekends and then $22 for the following weekends in October.
Tina's Pumpkin PatchLocation:

Sherman Oaks
There's something about encountering a friendly llama that makes the trip to this tiny but charming patch so worth while. Maybe you're not into the whole pumpkin picking thing – or even Halloween at all – but interacting with these highly entertaining petting zoo animals is one memory you need to create.
Shawn's Pumpkin PatchLocation:

LAX/Westchester
Shawn's Pumpkin Patch is definitely the spot for you. Like most patches, admission is free and activity prices usually range from $3-$9 with most falling toward the cheaper end. If it's anything like past years, the massive size of this pumpkin patch, guarantees tons of pre-Halloween fun.
Pa's Pumpkin Patch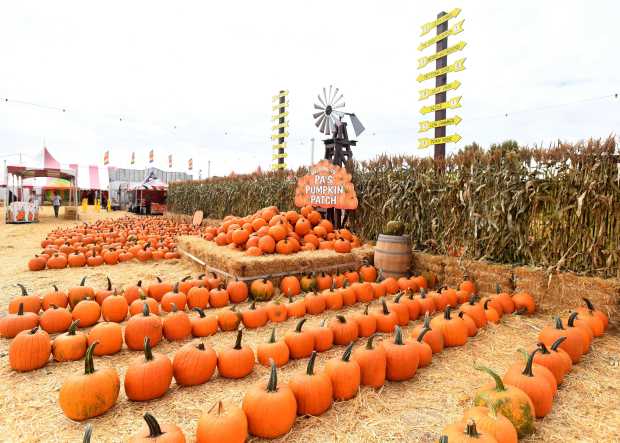 Who said county fair season is over? There's no reason a pumpkin patch can't bring back the same memories of booth games, carnival rides and sugary indulgences. Treat yourself to a weekend of classic festival favorites like giant slides, fun houses and more – all harvest-themed, of course. The patch is also full of haystacks, corn stalks and gourds.
Whittier Pumpkin PatchLocation:

San Gabriel Valley
If you're an SGV dweller looking to entertain your youngsters, head to Whittier Pumpkin Patch. Pick a pumpkin with your family and enjoy their petting zoo, inflatable jumpers and pony rides.