What makes a Thanksgiving table memorable to the guests? At first you may think it would be the turkey or other holiday fixings. However, it really is in the atmosphere you create. A traditional Thanksgiving consists of the standard foods: turkey, mashed potatoes, cranberry sauce, ect. You have a similar meal year to year. To make it a memorable one, elevate your tablescape and create a unique experience for your guests. Thanksgiving doesn't have to be a formal affair, with each plate flanked by a platoon of flatware. Instead, your table can highlight your personal style. Choose colors, textures, and patterns to set the scene in a welcoming homecoming for your loved ones.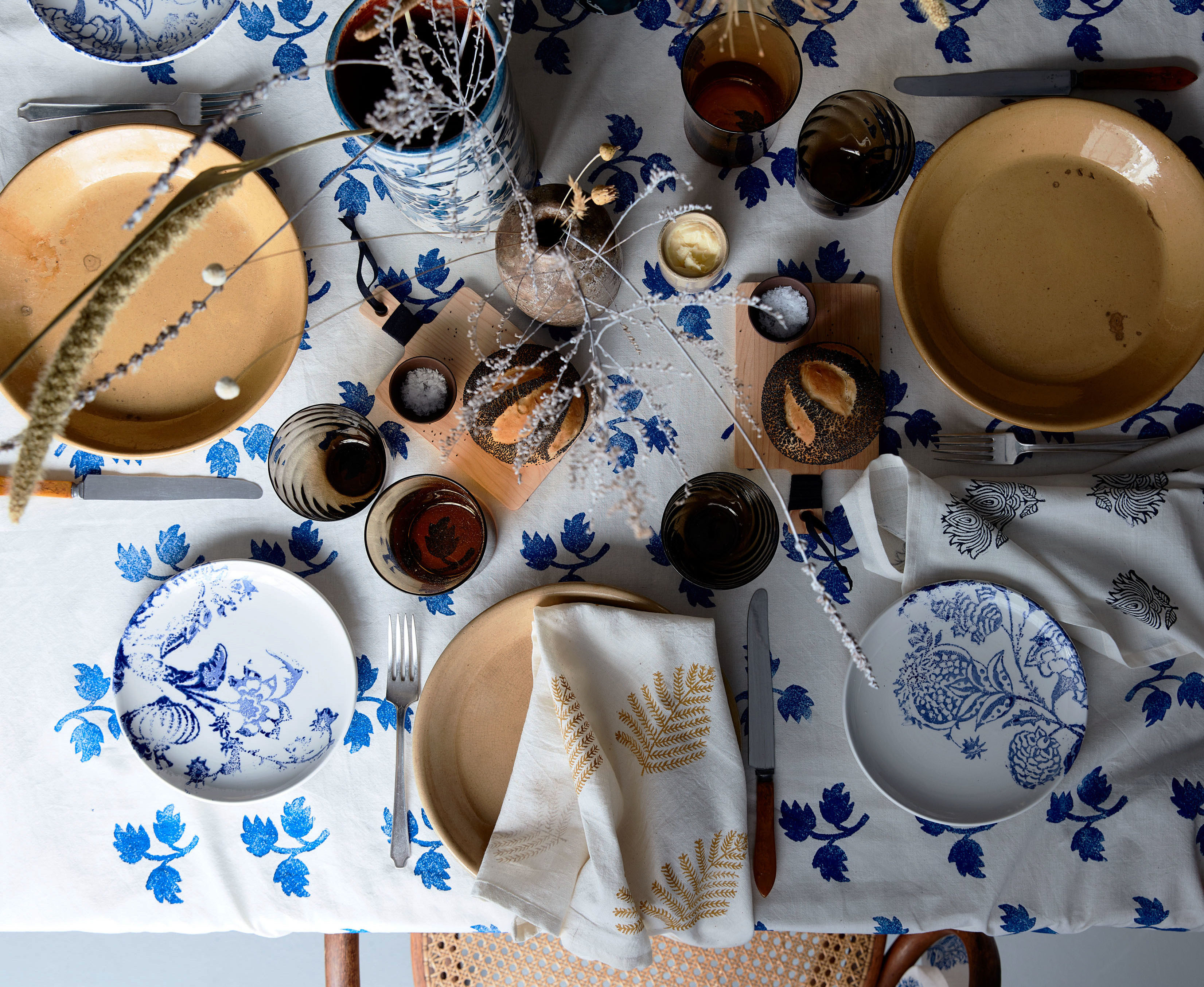 Indigo Table Setting
Take a break from fussing with formal floral centerpieces and display wispy dried branch stalks in different vases instead. For a snow-kissed look, lay them on paper and spray them with white floral paint before arranging. Block-printed linens are costly to buy but surprisingly simple to make using little more than textile paint, muslin fabric, and woodblock stamps.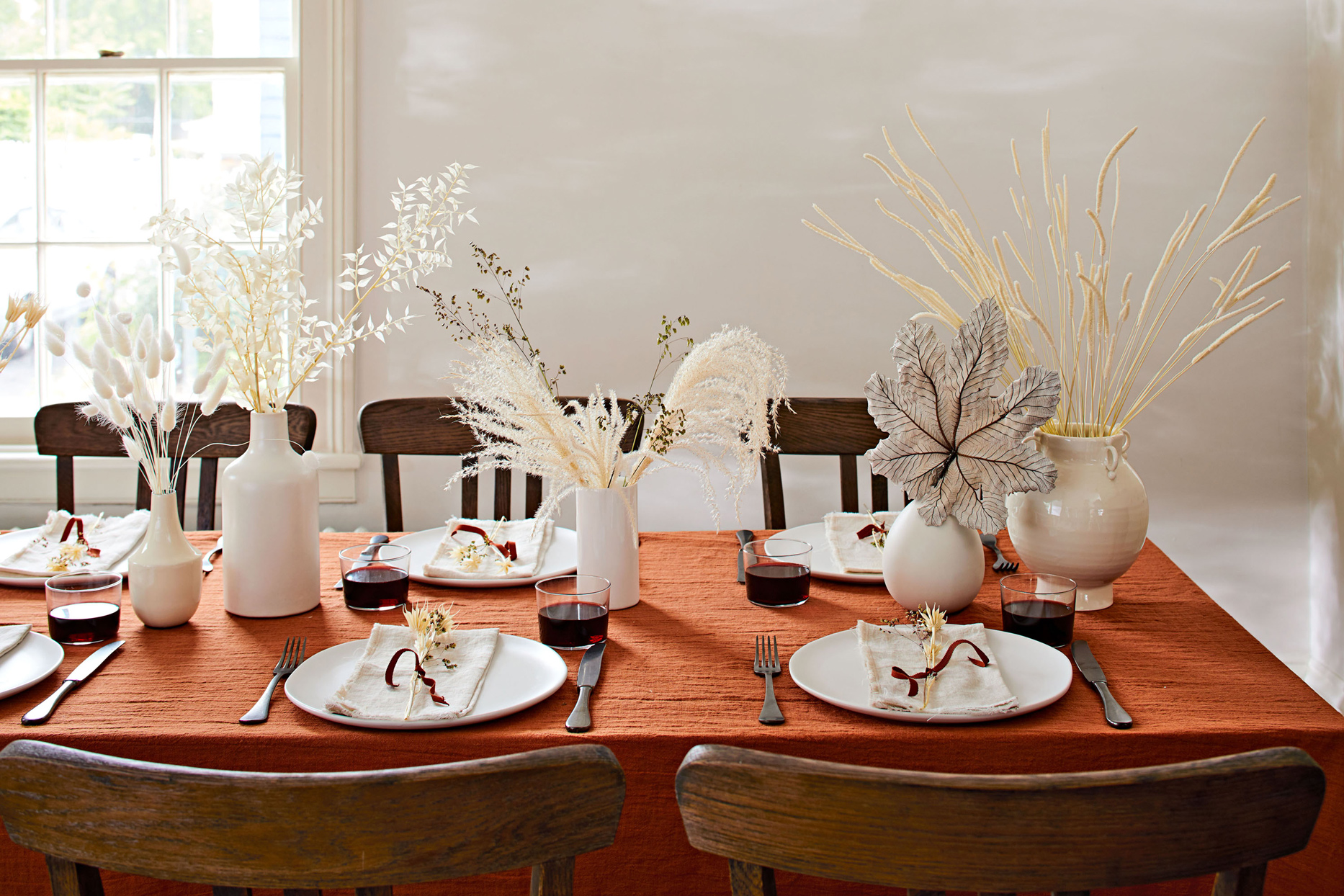 Dried Flowers Table Setting
The key to keeping your Dried Table Setting breezy yet modern is to stick mostly to one variety per vase (the mashup of white stoneware also stands out nicely on a rust tablecloth), and line them up loosely. The spare palette will work all winter; for a change of scenery, just swap out the vessels.
Fall Harvest Table Setting
This is debatably the easiest and most eye-catching, wilt-proof centerpiece. Simply place candles on small glass dishes, and cover them with curvy lamp chimneys (which you can find for dollars at hardware or antiques stores). Fill in spare spaces with fruit and foliage. When guests arrive, light the wicks and bask in the glow.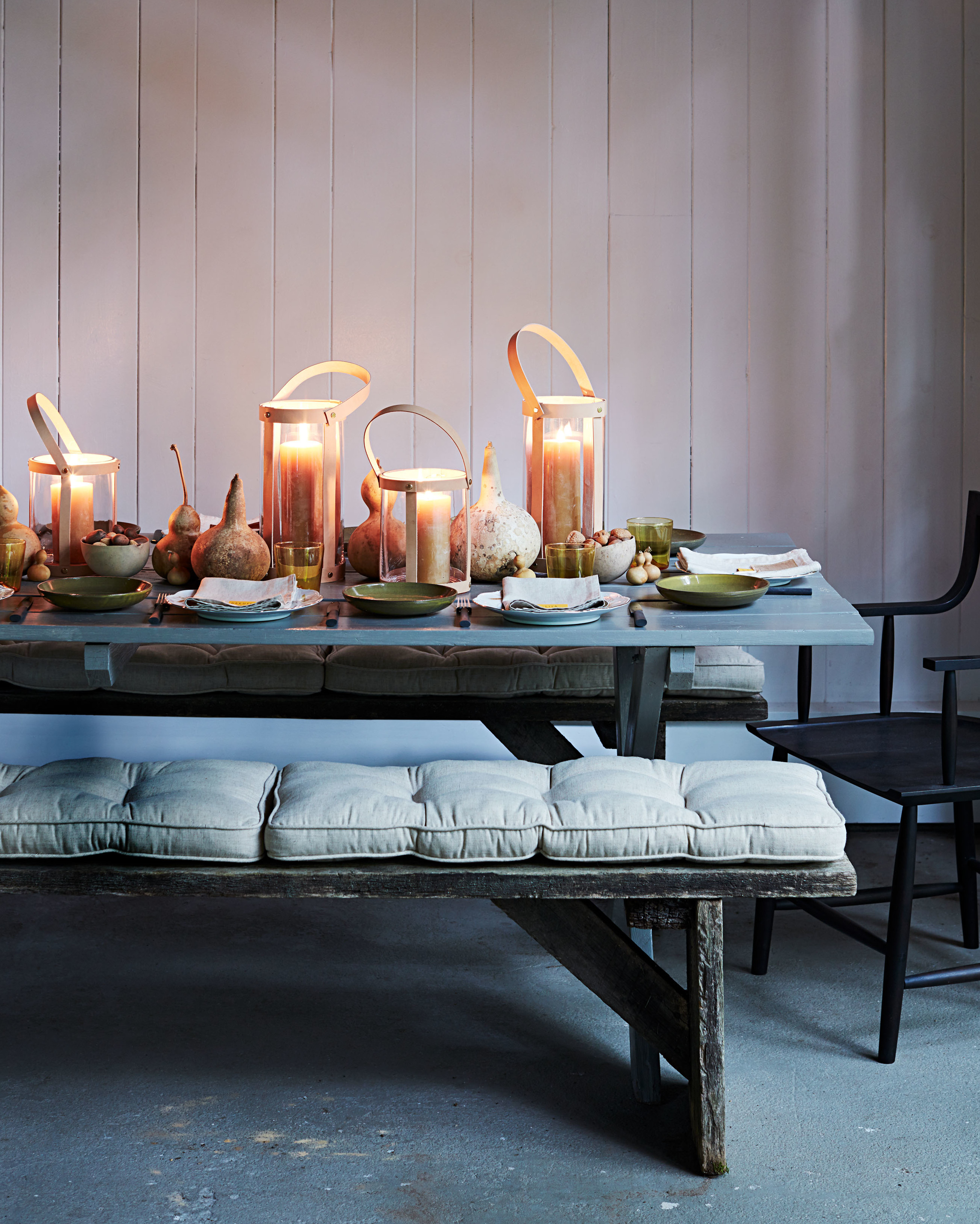 Cozy Rustic Table Setting
Feelings of gratitude come naturally in autumn, peak season for ethereal light, rich colors, and happy homecomings. This Thanksgiving, play up those elements with a simple yet special table that celebrates great food and close-knit company. Pull up a cushioned bench to a spread of easy earthly delights.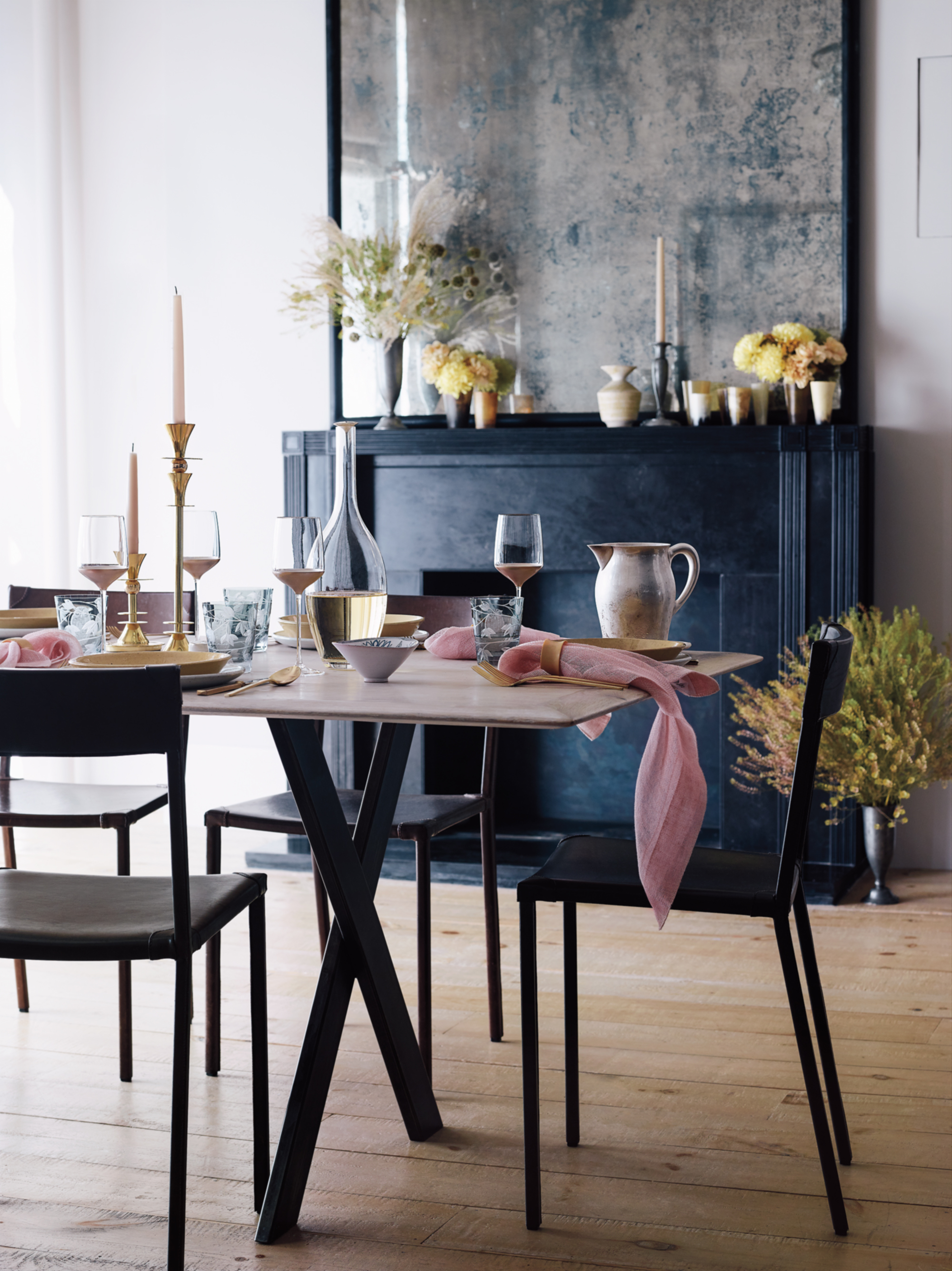 Soft Metallics Table Setting
In this Soft Metallics setting, glints of gold and silver play off of soft pink and yellow colors throughout . Positioned on and around the mantel, arrangements of carnations, mums, scabiosa seed heads, and grasses bring natural beauty to the setting. Especially… without crowding the table.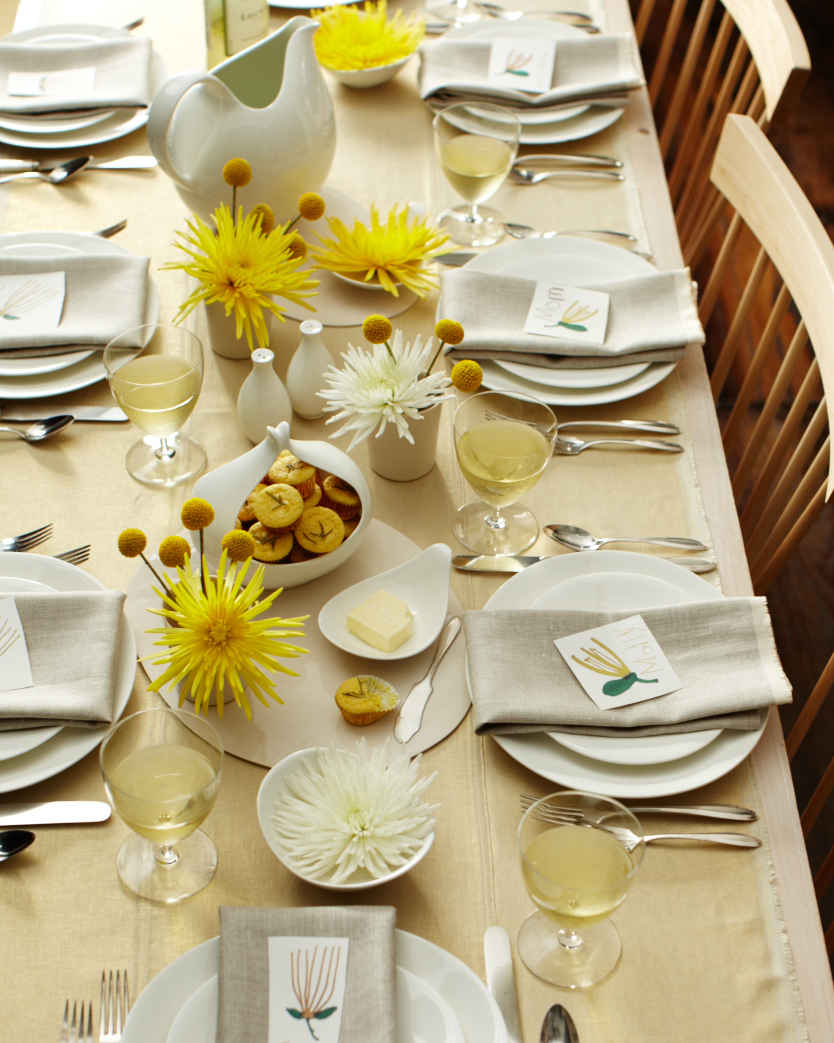 Bright Yellow Table Setting
Working with a golden yellow palette, the look was anchored with a table runner made with metallic glazed linen. The mix of old and new pieces of ceramic vintage dinnerware are all shades of creamy white, which makes for a unique tablescape.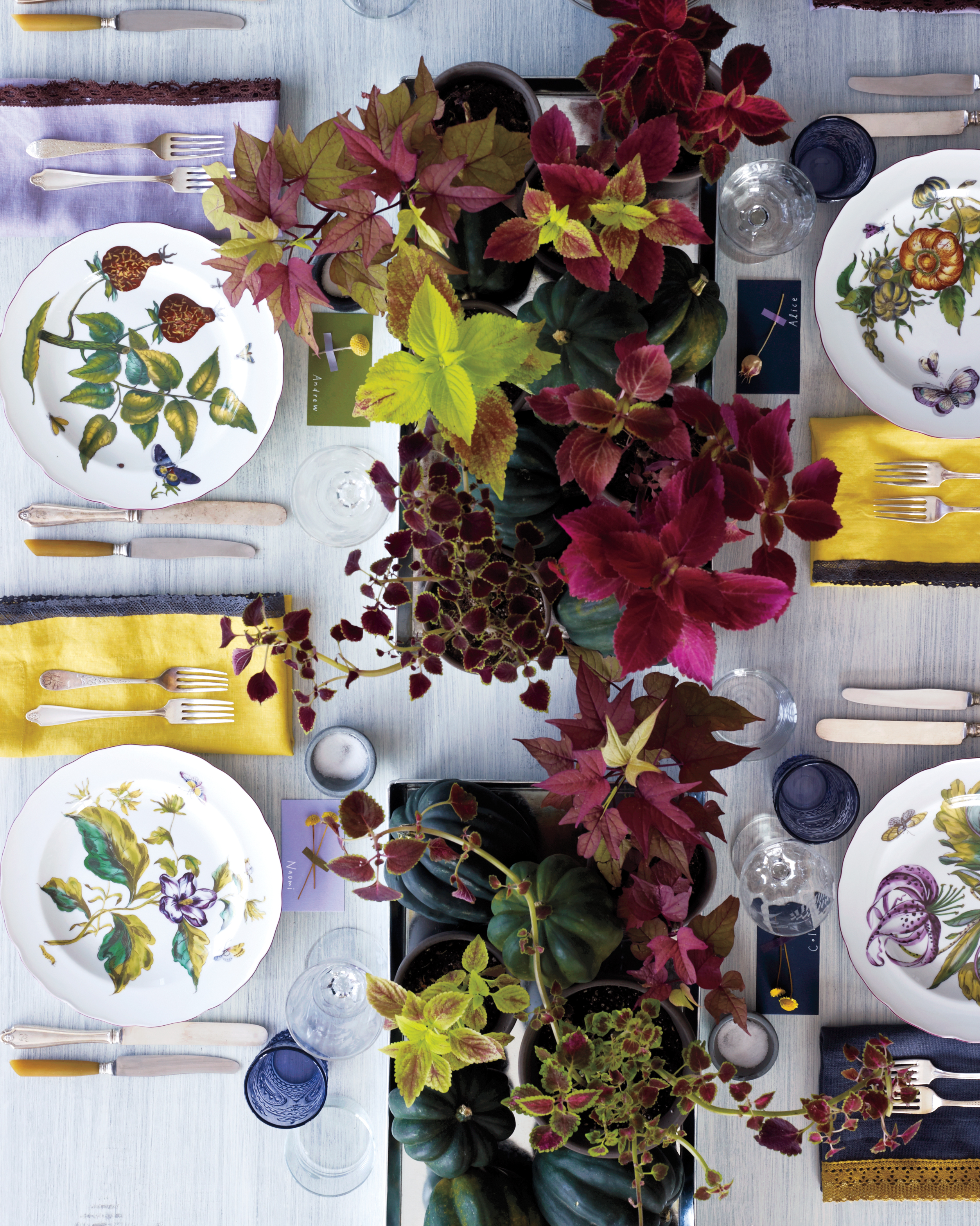 Pattern Play Table Setting
Botanical dinner plates were the starting point for this table. A fresh color palette pulled from the floral pattern—yellow, lavender, brown, and gray—ties everything together. Sleek gray side plates are a contemporary counterpoint to the vintage pattern on the dinner plates.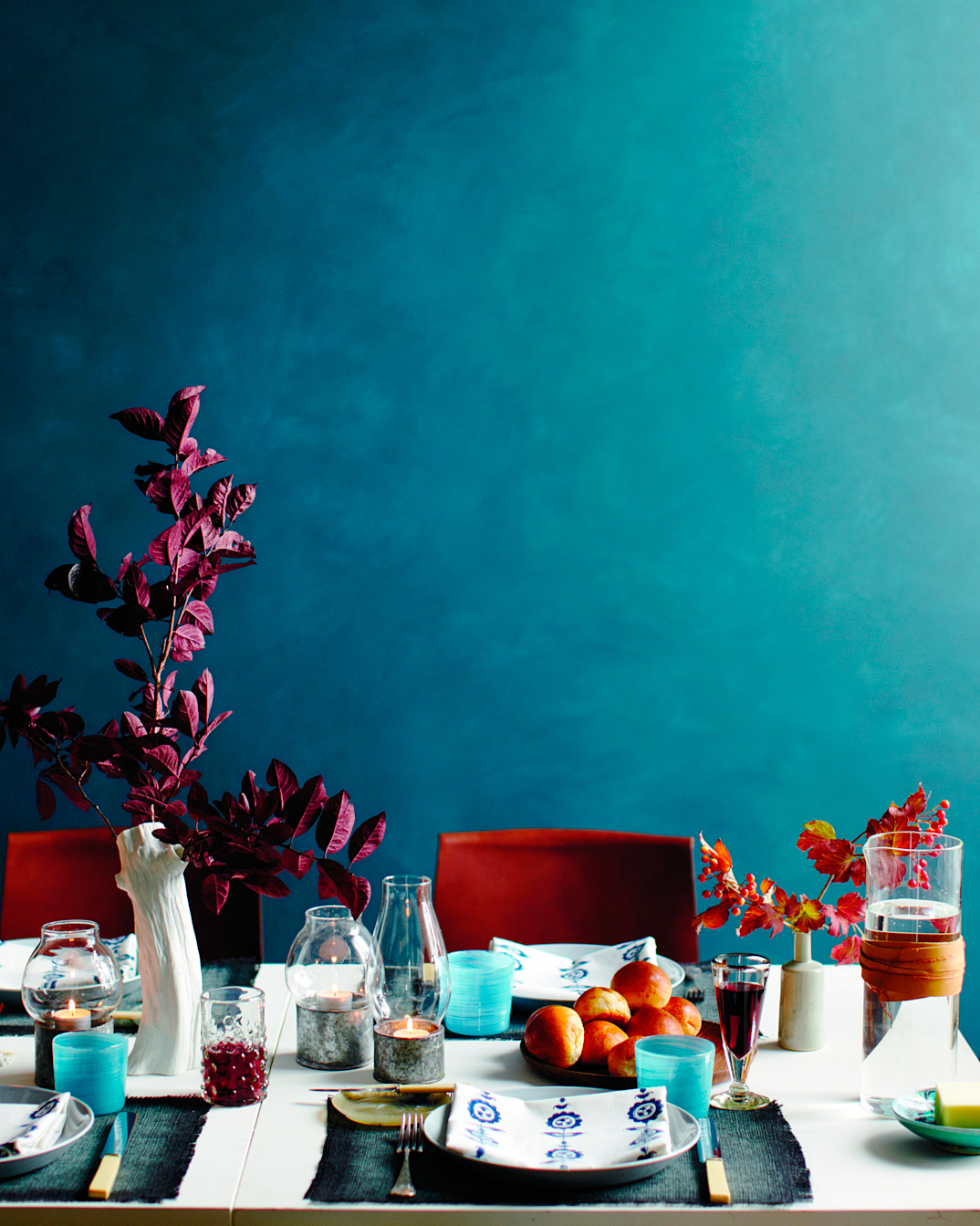 Richly Colored Table Setting
Sometimes, simplicity is key. This was the thematic vision from Deputy Creative Director Ayesha Patel on this Thanksgiving table, which incorporates natural materials and textures: burlap for place mats, a leather tie for the carafe, and block-printed napkins.