There are a few things most of us Angeleno's look forward to come summer. Aside from our near perfect weather and in between outdoor brunching is the music festivals that kick off the season. From summer fetes that mix wine with tunes to pure lyrical joy, there is no lack of festival options. Read below for our list of the best Music Festivals blazing through the summer heat!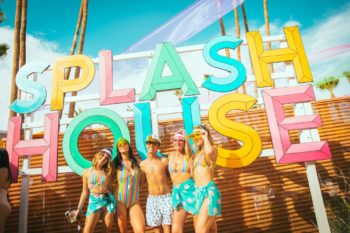 June 7-9 and August 9-11, 2019
Palm Springs, CA
Pack your best neon-colored swimsuit for this poolside weekend dance fest that takes place at Palm Springs resorts and venues. Expect DJs all day, followed by open-air parties and other affairs after the sun sets.
Key artists: Justice, Jai Wolf, A-Trak, Pete Tong, Dusky
Cost: $45 – $275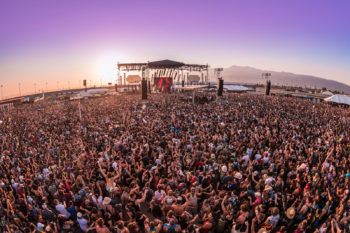 July 27, 2019
Long Beach, CA
Spend a summer day kicking back with a mix of hip hop heavyweights that spans from Snoop Dogg and YG to Blueface. The show takes place at Queen Mary Events Park, the area surrounding the historic ship, and offers some extravagant VIP packages including bottle service, cabanas, and other fun upgrades.
Key artists: Snoop Dogg, The Game, Warren G, Lisa Lisa, Zapp, Ginuwine
Cost: $100 – $4,500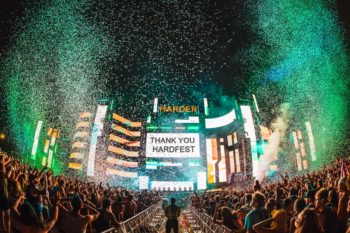 August 3-4, 2019
Fontana, CA
HARD has changed a lot in recent years, with new management in charge, higher production values, and a new lease on life. The EDM and hip-hop oriented festival still gives the fans what they love and keeps them dancing the summer nights away.
Key artists: Kid Cudi, Juice WRLD, Major Lazer, Dillon Francis, JPEG Mafia, Alison Wonderland
Cost: $79 – $249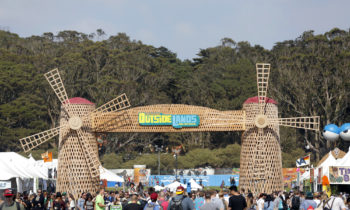 August 9-11, 2019
San Francisco, CA
Cool Bay Area temperatures and plenty of tree cover (the fest is nestled into Golden Gate Park) make this an attractive option, particularly for those who enjoy combining their festival-going with a getaway out of town. The food and wine program is typically a highlight, too.
Key artists: Paul Simpn, Mavis Staples, Childish Gambino, Lil Wayne
Cost: $375 – $795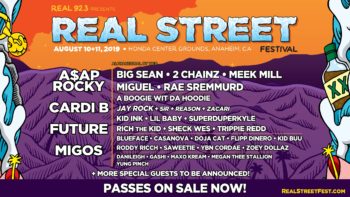 August 10-11, 2019
Anaheim, CA
Local radio station Real 92.3 presents this new fest featuring a lineup of many of the rappers getting regular airplay, from established stars A$AP Rocky, Migos, and Future, to trending stars like Megan Thee Stallion, Blueface, and Saweetie. The event, taking place on the Honda Center grounds in Anaheim, is billed as the largest music festival yet staged in Orange Country.
Key artists: Future, 2 Chainz, Meek Mill, A$AP Rocky, Migos, Big Sean
Cost: $99 – $1,799 (or $19,000 for the Ultra VIP private table package for 10)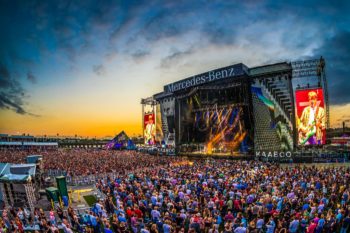 September 13-15, 2019
San Diego, CA
There's a lot going on with this one. The venue is on sand, literally next to the water, but they also have a viewing area where you can watch the show while in a pool. The food programming, Palate, includes "culinary rock stars." There is an on-site spa and beauty area offering hair styling, massages, and skin treatments. There are art galleries. There is a comedy stage full of A-listers. There are after-parties in a custom-built pop-up dance club. Oh, and we hear there's some music.
Key artists: Dave Matthews Band, Mumford & Sons, Bryan Adams, Black Eyed Peas, REO Speedwagon
Cost: $259 – $3,199 (or $17,500 for the "Ultimate Hang" VIP package)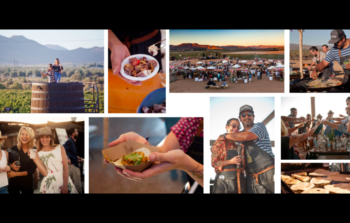 September 14, 2019
Ensenada Baja California, Mexico
You've probably been considering a getaway to the Guadalupe Valley wine country, the trendy weekend destination for gourmet-inclined west coasters du jour. And now you've got a specific excuse. This one night festival includes Mexican and American acts, mostly in the electronic vein, along with food and wine experiences from well-known chefs–and, since it's only one day, your Sunday is free to explore more of the region before you head back north.
Key artists: TBA
Cost: $80-$200 (food is included with ticket purchase)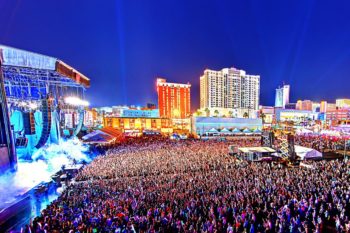 September 20-22, 2019
Las Vegas, NV
A big, bombastic festival, as only Las Vegas can deliver, Life Is Beautiful has risen quickly to become one of the region's top pop fests. In addition to major musical artists, the experience includes a comedy stage, art exhibitions, and destination-worthy dining pop-ups. The "Ideas" stage is a unique offering, with TED Talk-inspired lectures from interesting folks like Jonathan Van Ness and the Pod Save America hosts.
Key artists: Chance the Rapper, Post Malone, Zedd, Lil Wayne, Janelle Monáe
Cost: $315 – $2,750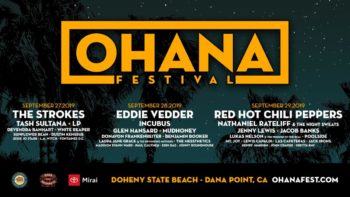 September 27-29, 2019
Dana Point, CA
This weekender is ostensibly curated by buddies Eddie Vedder (of Pearl Jam) and Kelly Slater (of professional surfing fame). Unlike the blacktop or trampled grass of most festivals grounds, Ohana takes place literally steps from the ocean and sand of Doheny State Beach. Historically a go-to for singer-songwriters and mellow vibes, the 2019 lineup is a bit more rock-forward.
Key artists: Jenny Lewis, Red Hot Chili Peppers, The Strokes, Tash Sultana
Cost: $128 – $1,350
Content Curated from: Los Angeles Magazine