With all the hustle and bustle in LA, narrowing down the best places to grab a bite can be tricky. Rather then making your routine stop at Panera Bread, why not try something new. LA has more restaurants then there are Bird scooters. With that in mind we've narrowed down the best places to nosh this week.
Breakfast is the most Important meal of the day!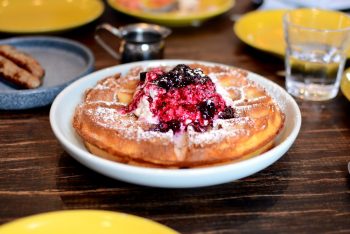 Location: Koreatown
While most restaurants don't put too much creativity into their brunch menus,  chef Jonathan Whitener is bringing fresh ideas and energy to the table. Take for instance his coconut waffle with koji, blueberries, ume (Japanese salty plums), and smoked maple syrup.This dish is far more interesting than it needs to be, going above and beyond the brunch-time status quo. Respect the waffle.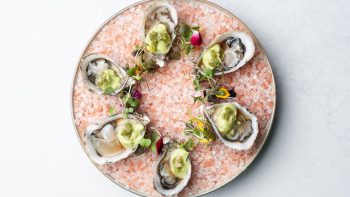 Location: Los Angeles, CA
The menu weaves across the hours with a mix of rethought American classics. From breakfast bowls with activated charcoal or a smoked salmon tartine with yuzu cream cheese. To lighter lunches like grilled tuna salads or hummus and steamed mussels. For dinner there's a full bar run by lead bartender Jamie Clark and surprises like an all-vegan beet-based bao, or a throwback filet mignon atop wasabi mashed potatoes. Throw in a daily happy hour, and it feels like Pikoh really can do it all.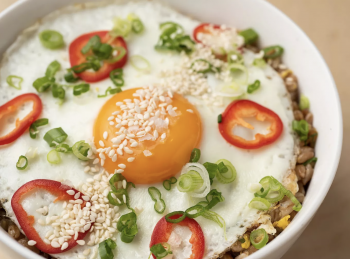 Location: Chinatown
Lately's menu is an all-day savory jaunt, with their breakfast sandwich sporting an organic fried egg, gouda, and oven roasted tomato on an English muffin. They also serve biscuits, a soft scrambled toast, a heaping avocado toast, salads, breakfast bowl, and a country-fried steak sandwich.
Power Lunch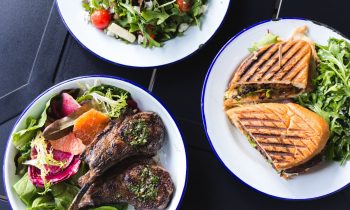 Location: Arts District
Urban Radish, the healthy-eating oasis in the Arts District is the perfect lunchtime spot. The outdoor grill is hidden behind a row of water-circulating vertical planters brimming with kale and other greens. Look through the foliage to find one man and a stack of tickets. Skirt steak, salmon, chicken; it all hits the hot metal and gets served over healthy grains and greens to a slew of daytime diners. Yum!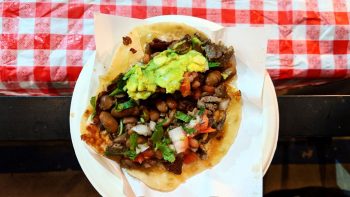 Location: Koreatown
 LA's best new taco stand has landed a highly visible location in Koreatown. Meaning it's the best time to stop by during weekdays. Ask nicely for the chicharron de queso con hongos, paired with the stand's excellent mushrooms. The best part about Tacos 1986 is its accessibility, placed right in the heart of Koreatown. Located at a crossroads for anyone traveling to Hollywood or Downtown, South LA, or Mid-City. What's better than a taco pit stop?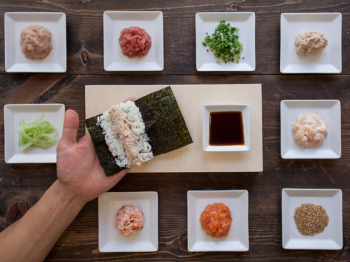 Location: Los Angeles
With open seating and rapid rounds of sushi hitting plates, KazuNori is the place to find some of the LA's freshest fishes. It's not uncommon to find a long line, which can be surprisingly short thanks to the restaurant's efficiency. Choose from three to six hand rolls, which are made in plain view. The chefs transform the sea bream's tender flesh and shiny silver skin into an elegant and perfect hand roll. Order a Sapporo and watch the chefs do their magic. 
What's for dinner?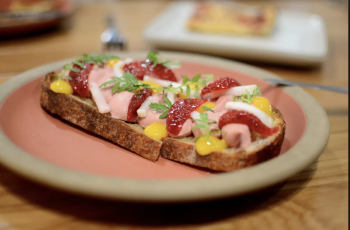 Location: Los Angeles
Newly opened, Tartine Bianco is a hot ticket dining spot. The chicken liver toast is an early stand out and quite possibly the most thoughtful dish. The base of the matter, a crusty slice of the restaurant's famous bread, sturdily held onto the pretty pink liver, as well as dollops of kumquat puree and blood orange segments. Balance comes among the varied components, hitting the brightest of notes with just enough richness to bring it home.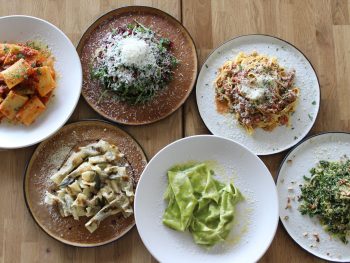 Location: El Segundo
Jame Enoteca is well on its way to becoming a new kind of standard for the city of El Segundo. The corner strip mall option makes all of its pastas in-house and keeps a cozy but refined sort of vibe. Of particular noteworthiness (though all of the pastas seem to be pretty delicious) is the off-menu occasional lasagna with assorted foraged mushrooms. Pair it up with some vegetables to start and maybe a glass of wine, and be well on the way to a very full and very relaxed time in the South Bay.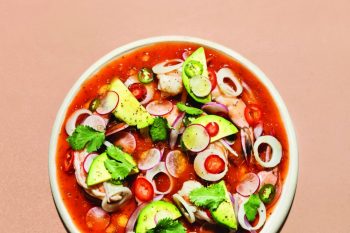 Location: Los Feliz
The chefs at Atrium have whipped up pristine dishes with flavors that are unique and strong, just the way Angelenos like it. The beef carpaccio, inspired by the chef's love of carne asada, is topped with crispy potato matchsticks, a thick salsa macha, and avocado crema. Those crunchy, salty, and savory layers makes for fun eating, but one plate might not be enough.