The very first thing you'll do this Thanksgiving as a host is greeting your family, friends, and guests as they arrive at your front door. With fall foliage in the air and dried florals abounding the countryside, harnessing the natural materials of the season is the first step towards creating a memorable Thanksgiving wreath. These handcrafted decorations can be displayed right on your front door, above your Thanksgiving spread in the dining room, or directly over a crackling fire on your mantel.
Ombre Fall Wreath
Parts farmhouse tradition and ombre obsession, this whirl of wreath ripples from rust to beige to gold to blond. Wire small single-color bundles onto a circular metal form, working from bottom to top (light to dark). For an abundant, untamed look, tuck in longer straws and fronds and finish with a thin velvet ribbon.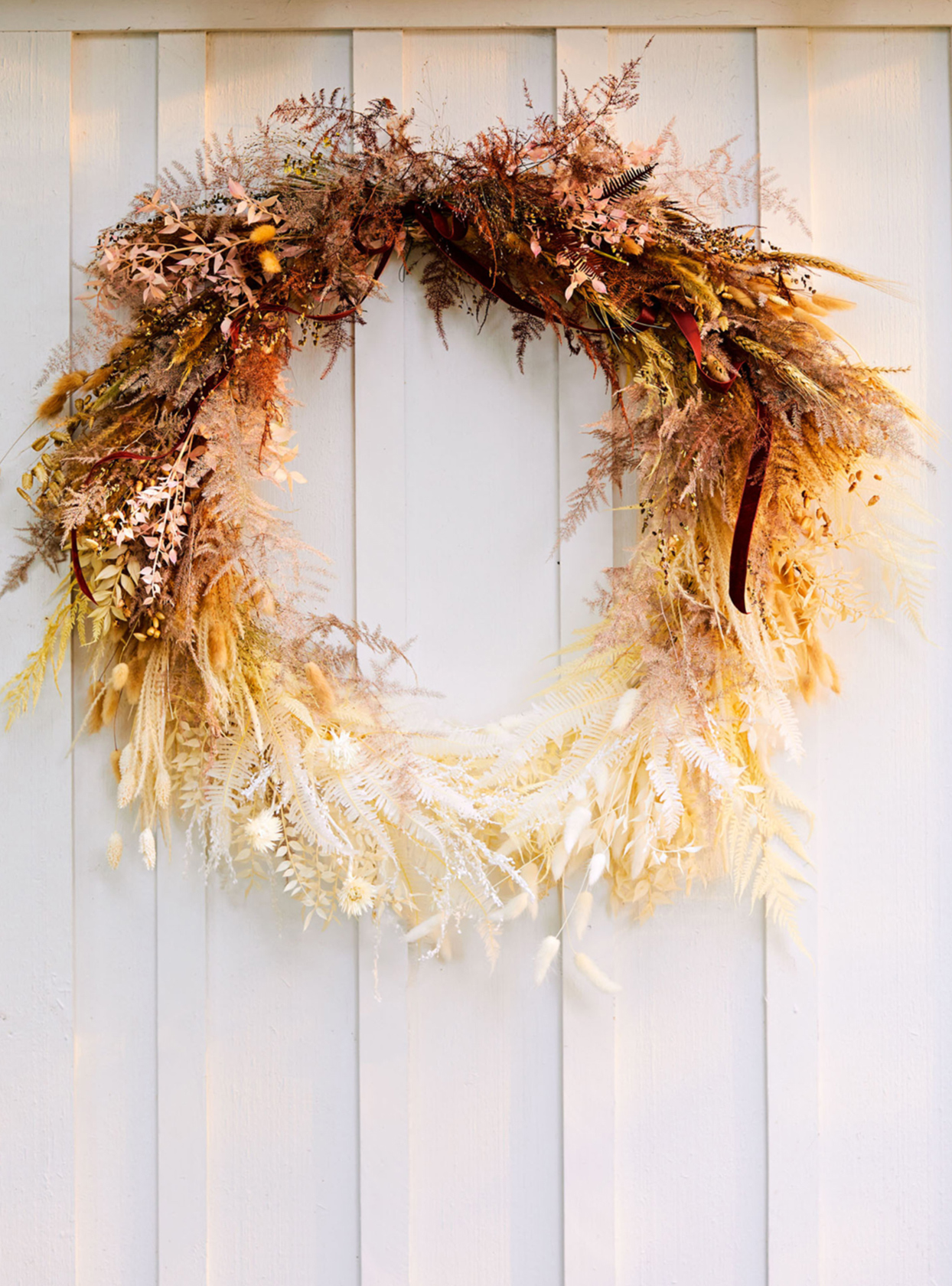 Wheat Wreath with Wooden Beads
Dried wreath embraces a wildly elegant motif that hinges on natural materials found in your locale. Building on a standard straw base, add wheat stalks laced with wooden beads and sculptural seedpods to add a dimensional flair to your entryway.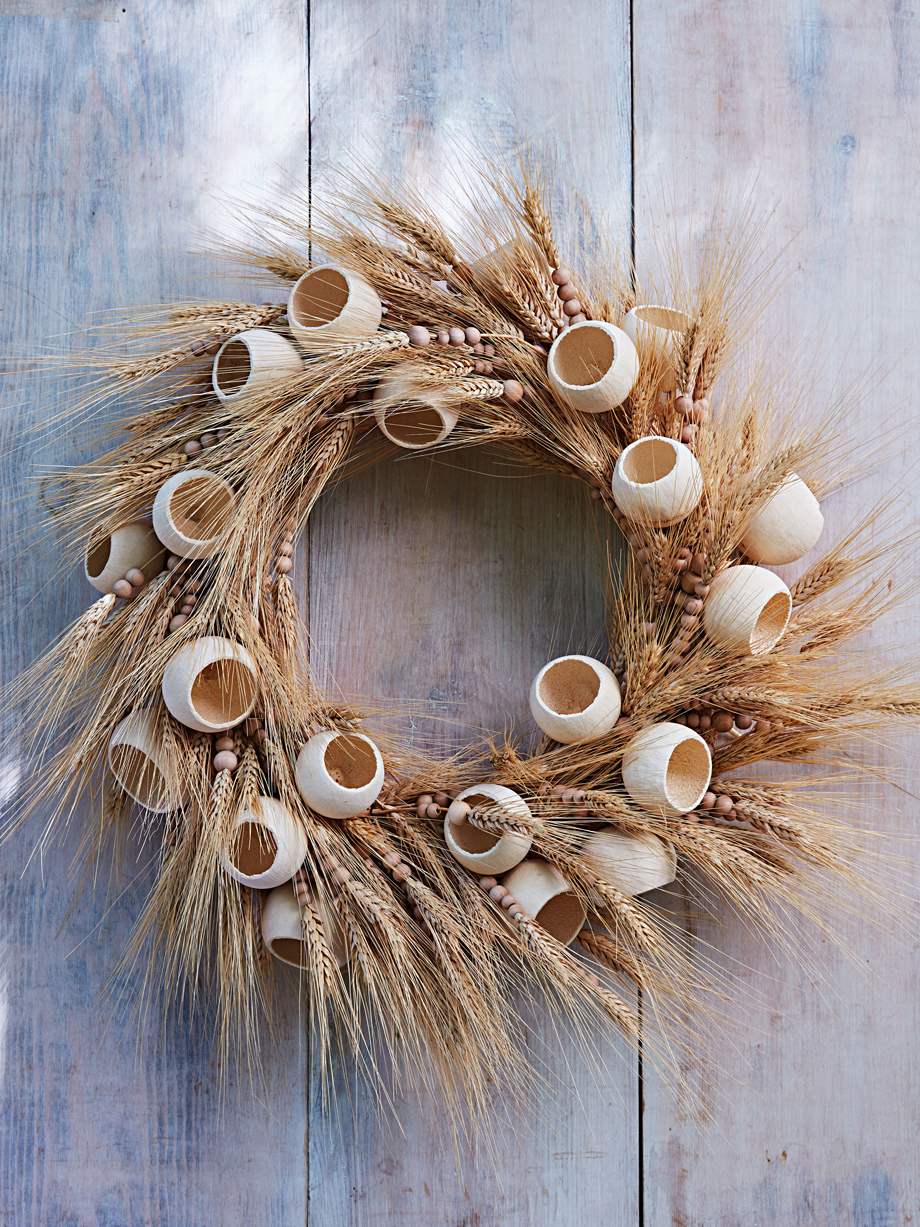 Nut Wreath
Fall's abundance by creating a unique wreath made of hard-shelled nuts, including almonds, pecans, hazelnuts, and walnuts. You can mix the nuts in with acorns from your backyard to fill out your wreath form; you'll need a pound of each kind of nuts you choose to use.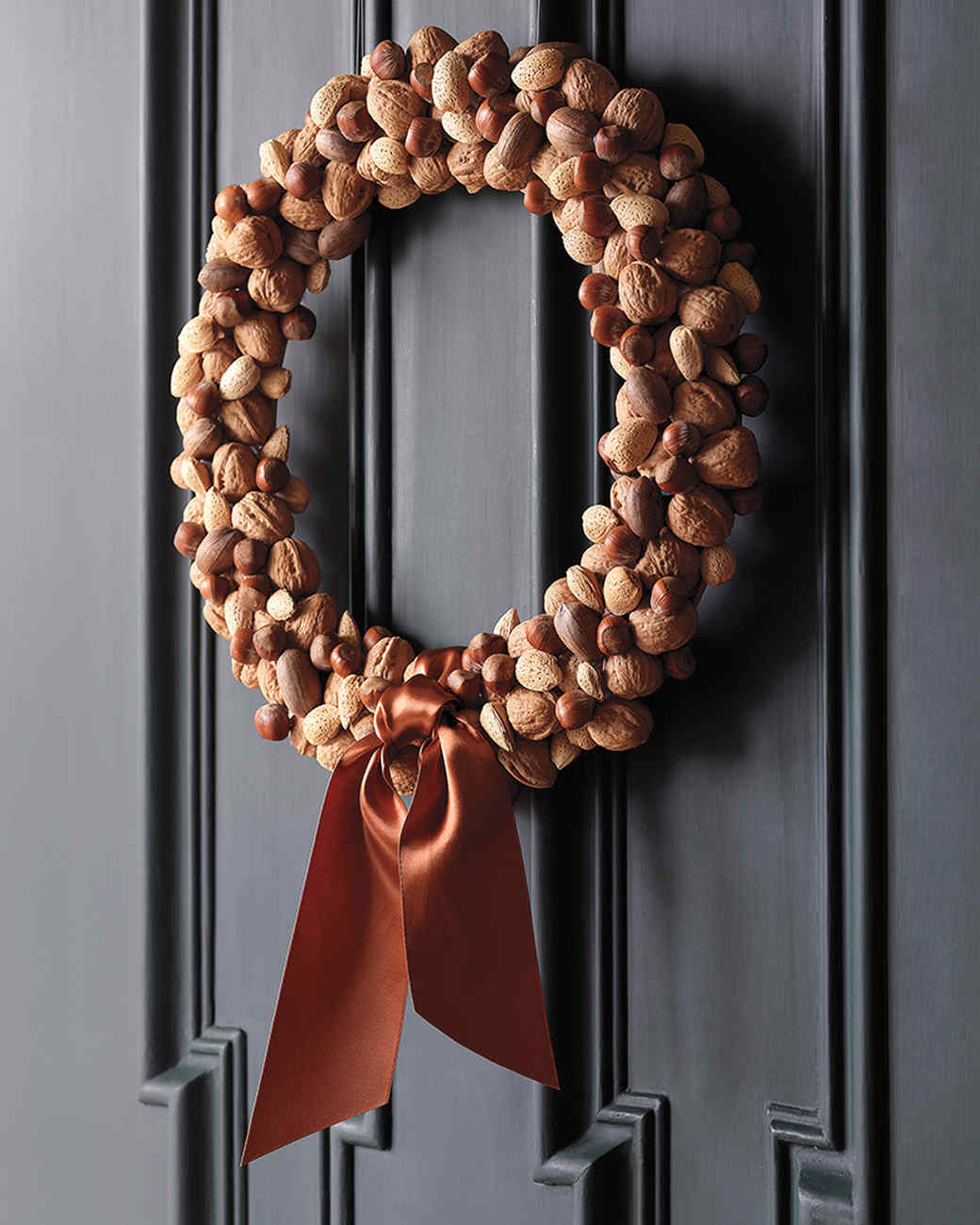 Asymmetrical Foliage Wreath
Au natural wreath isn't rigid whatsoever; it embraces the loose nature of autumnal leaves, pinecones, and other dried florals. Feel free to add leaves and other elements collected outside your home on a natural wreath frame fashioned from supple branches and twigs.
Dyed-Cornhusk Wreath
Corn husks take a decorative turn when dyed a rich burgundy shade and looped around a wreath frame. The resulting display makes a radiant Thanksgiving welcome.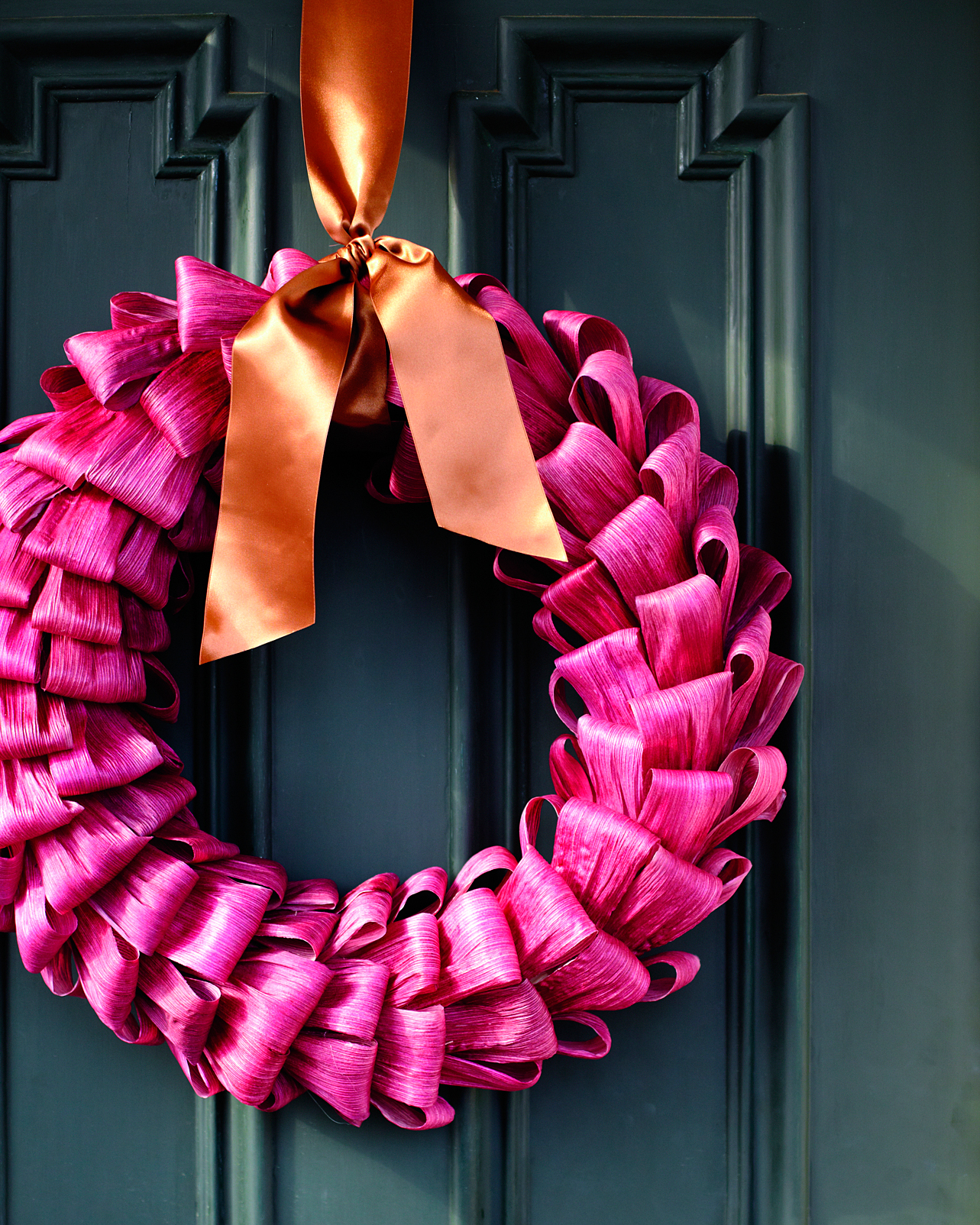 Gold Wreath
Gold satin sheen perfectly accentuates sparkling gold fir and boxwood leaves. Begin by cutting your faux gold leaves and branches into 4-to 6-inch long pieces. Make bundles using one of each type, then bind them with 26-gauge gold wire. Attach one end of the wire to the wreath form. Add another below the first, overlapping them, and bind them. Repeat this process until the entire form is covered.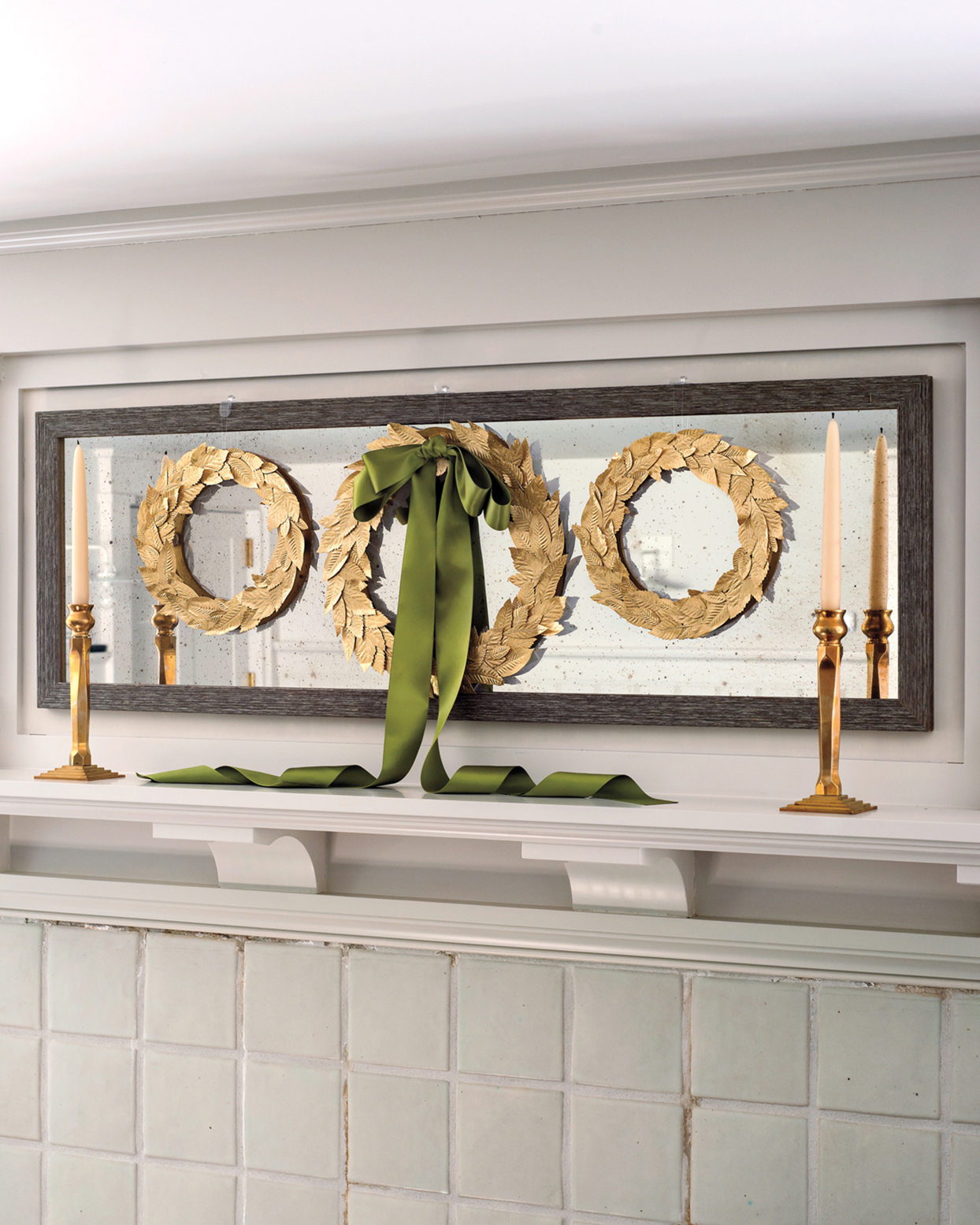 Sweetgum-Fruit Wreath
Simple wreath, this idea doesn't require perfect symmetry or bending of boughs. Rely on spray paint, a hot-glue gun, and floral wire. The gentle coating of white conjures the season's first snow. Begin by cutting floral wire into 2- to 3-inch-long pieces. For each sweetgum fruit, remove stem, dab hot glue into its opening and insert a length of wire; let dry. Push the wire end of each fruit completely into a wreath and attach ribbon to the top with floral pins for hanging.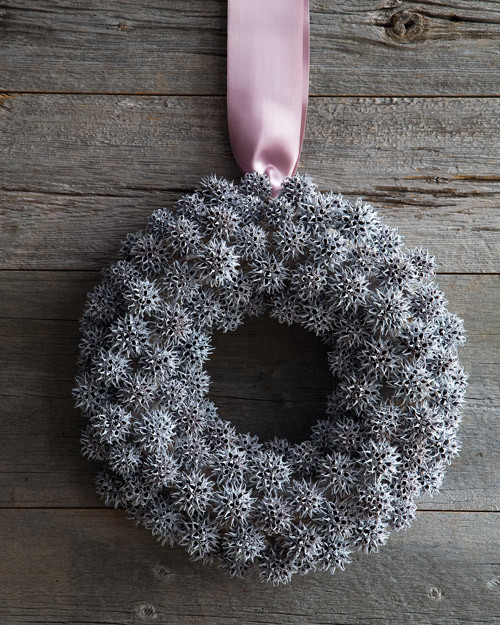 Gold-Leaf-Accent Pine Cone Wreath
Nut-and-pinecone wreath was made more special with an application of acorns and seed pods painted white, as well as gold and copper leaves. Begin by zigzagging floral wire between the rails of the form to stabilize pinecones when attaching them. Then, cut a 12-inch piece of wire and loop it around a pinecone. Press both ends of the wire together, creating one thick tail. Wrap this tail around wreath form to connect pinecone to wreath. Repeat with more pinecones until the wreath is mostly covered, placing smaller ones were needed to fill in the gaps.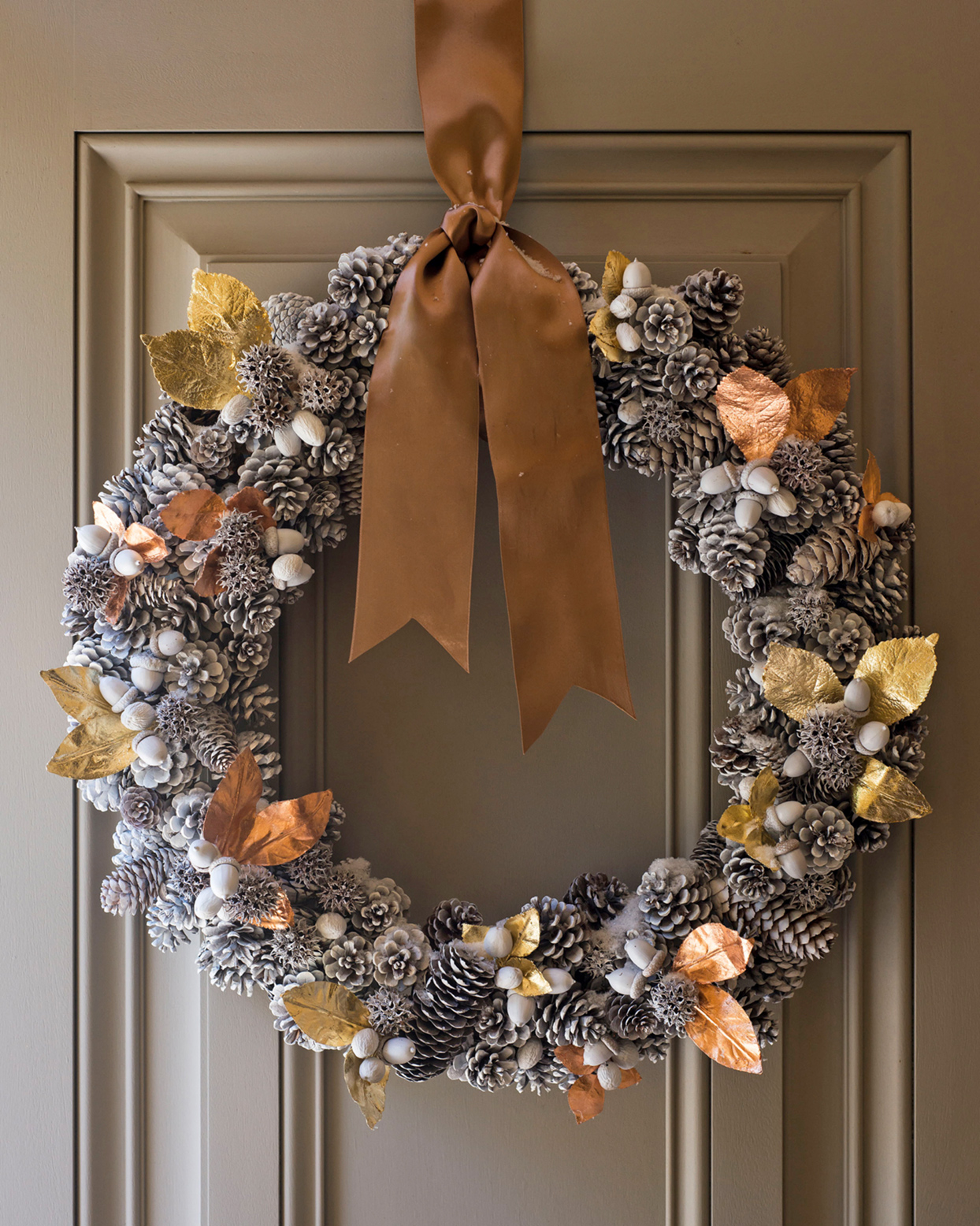 Apple Wreath
Taking advantage of the fall's vivid palette of reds and golds for as long as they remain ripe for picking by using natural fall elements. This wreath may seem elaborate, but all it requires is some patient repetition of a simple technique.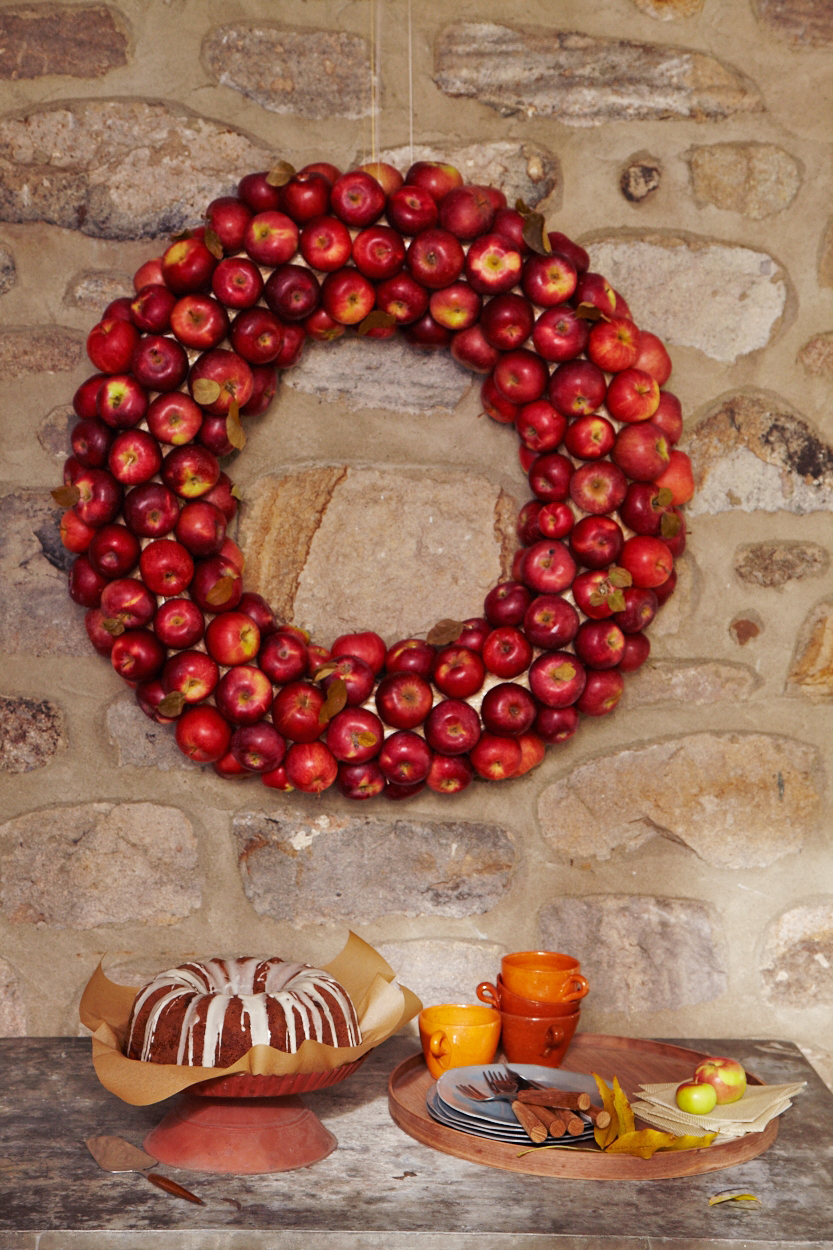 Gold Leaf-Sticker Wreath
The smaller wreath is adorned with gold leaf-stickers and is made specifically to adorn the surface of a mirror, as shown here. Begin by painting your wreath form in gold, and letting it dry completely; then, apply your leaves to the wreath in the desired pattern. Once you have the placement you like, use a glue gun to further secure leaves. For more dimension, gently bend up edges of the leaves on the form. Finally, tie a ribbon around the top of the wreath to hang it later.