From museums to the grove, to quaint coffee shops and the hustle and bustle of the tourist-packed Hollywood and Vine, the heart of Los Angeles has endless options for you to fill up your weekend.
"Julie Mehretu" until May 17, 2020
Los Angeles County Museum of Art – 5905 Wilshire Blvd, Los Angeles 90036
A co-presentation with New York's Whitney Museum of American Art, LACMA takes a first-ever mid-career look at the Ethiopian-American artist's striking large-scale abstractions, with 35 paintings and 40 works on paper. Active since the mid-'90s, Mehretu uses ink and paint to create captivating and chaotic scenes that capture the – often unforgiving – march of geopolitics and displacement through abstraction, architecture, landscape, movement, and figuration.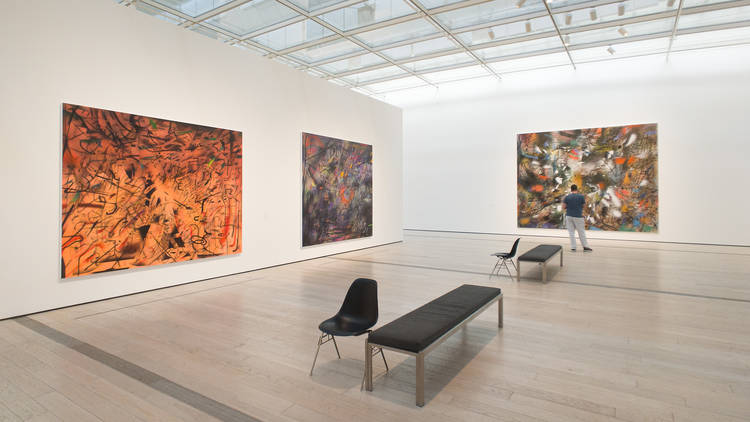 Second Home Serpentine Pavilion by SelgasCano until November 24, 2019
La Brea Tar Pits Museum – 5801 Wilshire Blvd, Los Angeles 90036
Each summer, a different world-renowned architect constructs a short-lived immersive pavilion in London's Kensington Gardens. Now, for the first time, one of those fleeting structures is headed stateside: SelgasCano's crisscross of airy rainbow tunnels will welcome visitors who are looking for colorful photo ops and free performances, hosted by coworking space Second Home and the Natural History Museum. You can swing by daily from 11 am to 7 pm (and until 9 pm on Fridays), though timed express entry tickets will be released. While you want to visit when there's ample sunlight to make the iridescent exterior and its colorful shadows more vibrant, do note that it can get pretty toasty inside under the midday sun.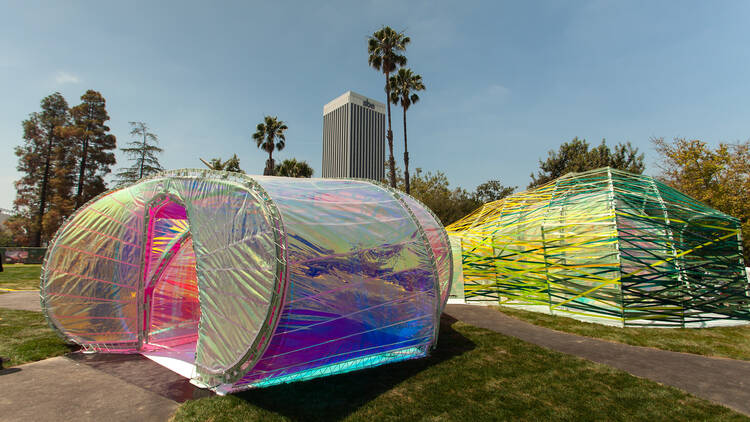 Los Angeles Auto Show from November 22, 2019 – December 1, 2019
Los Angeles Convention Center – 1201 S Figueroa St, Los Angeles 90015
Drift into the Convention Center for the 10-day LA Auto Show with cars that would even make Bond drool. If you're a car nerd, get behind the wheel to test drive one of the cherry rides, while celebrities meet and greet at the manufacturer exhibits. With the world and North American debuts from BMW, Lexus, Mercedes-Benz and more, rev up for the machines of the future.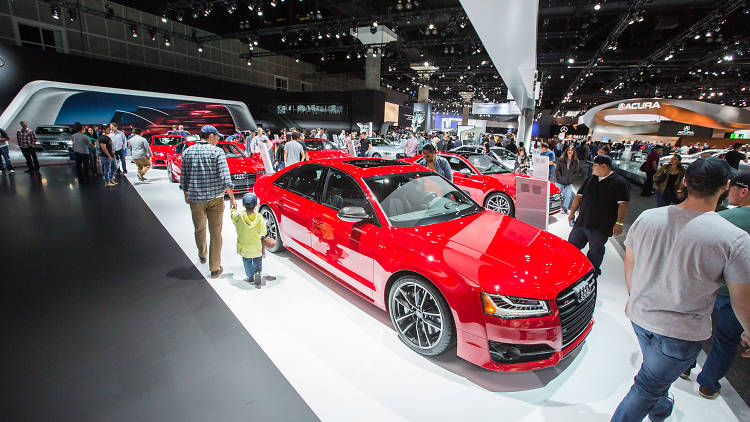 The Great Los Angeles Walk, November 23, 2019
Various locations in LA
Every year on Saturday before Thanksgiving, the Great Los Angeles Walk debunks all of those clichés about walking in LA. Hundreds of walkers start the free urban hike on one side of the city and nine hours and 18 miles later end up at the other. You can hop on or off the walk whenever you'd like, and though no reservations are required, RSVP's are appreciated. This year's route starts in Arcadia and makes its way through Pasadena, down along Arroyo and into Downtown LA.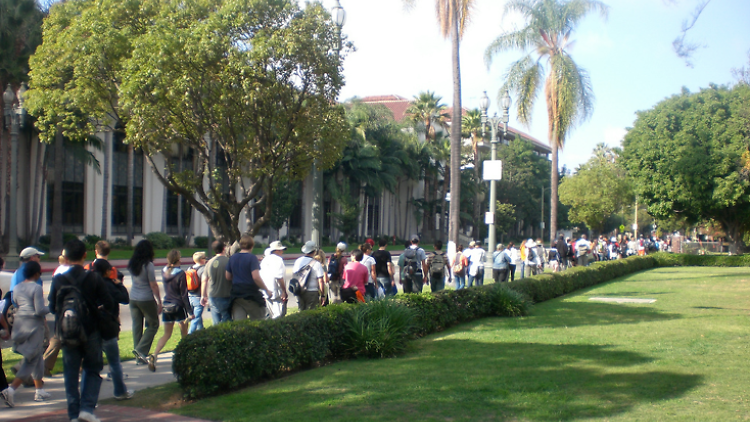 Artists & Fleas Venice, November 23 – December 21, 2019
Abbot Kinney Blvd, Los Angeles 90291
The newest flea market on the block, the Venice outpost of this artisan/craft-focused flea market mini-empire is bringing records, vintage and vintage-inspired clothing, cosmetics, jewelry and more to the Westminister Avenue Elementary School. A handful of small-batch confectioners provide sweet treats to snack on or take home, while food trucks and nearby restaurants provide heartier bites. Though relatively small in size, owing perhaps to its prime location bookending the neighborhood's famed Abbot Kinney stretch, vendors hawk a diverse range of hand-made and expertly curated wares that seems to simultaneously fit in and stand out in one of the nation's most unusual neighborhoods.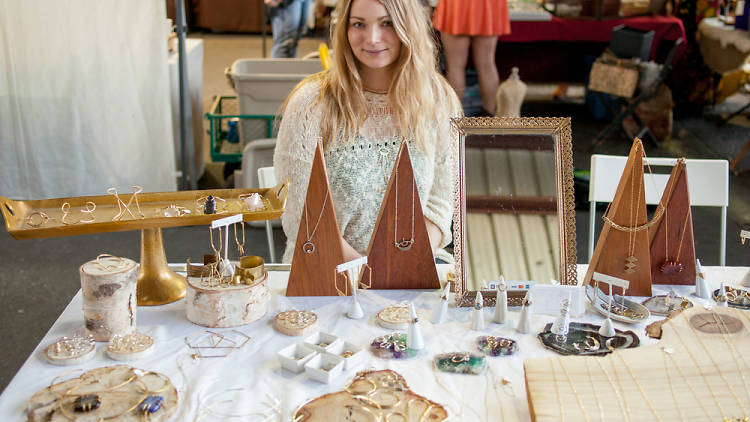 A History of Disneyland & Walt Disney World, November 19 – December 6, 2019
Van Eaton Galleries – 13613 Ventura Blvd, Los Angeles 91423
Somehow each Disneyland-inspired auction at Sherman Oaks' Van Eaton Galleries is seemingly bigger than the last. While that may not be true in terms of floor space this time around – the massive, museum-like That's From Disneyland! filled a big box in the store in the Valley last year – it certainly is in terms of inventory.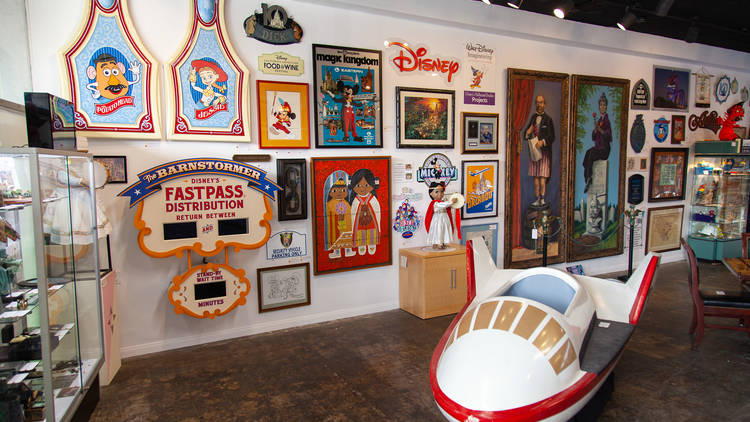 Dogs! A Science Tail until January 5, 2020
Exposition Park – 700 Exposition Park Dr, Los Angeles 90037
Learn about the unique bond between dogs and humans at this exhibition, which explores how pups see, hear and smell the world. "Dogs! A Science Tail" takes a colorful, hands-on approach to its subject and mainly targets kids. Be sure to catch daily live demonstrations of dogs' rescue, agility, sensory and service skills. The exhibition also includes a selection of dog-featuring works of art, mostly Norman Rockwell paintings and Charles Schulz Peanuts strips, on loan from the upcoming Lucas Museum of Narrative Art.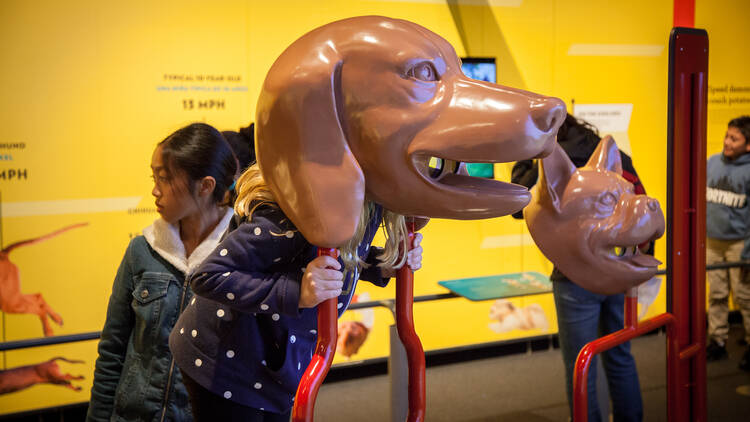 Neil Simon's 'Musical Fools' until December 1, 2019
Atwater Village Theatre – 3269 Casitas Ave, Los Angeles 90039
In the 1890s, a young tutor arrives in a cursed village where everyone is "as dumb as a bag of rocks." This world-premiere musical adapts the Neil Simon play Fools, with book and lyrics by Simon, music and lyrics by Phil Swann and Ron West.