When summer fades, many of us are ready to welcome the fall season. Pumpkins, gourds and other decorative squashed are in abundance this time of year! Why not use them as inspiration for your fall harvest decorating project? Browse our best fall harvest decorating ideas over the years – they're made to last from the first changing of leaves through the Thanksgiving feast.
Wheat Wreath with Wooden Beads
A wreath is a lovely way to welcome guests into your home. This wild wonder owes its elegant good looks to the natural materials that embellish its standard straw base. We added wheat stalks laced with wooden beads and sculptural bleached seedpods.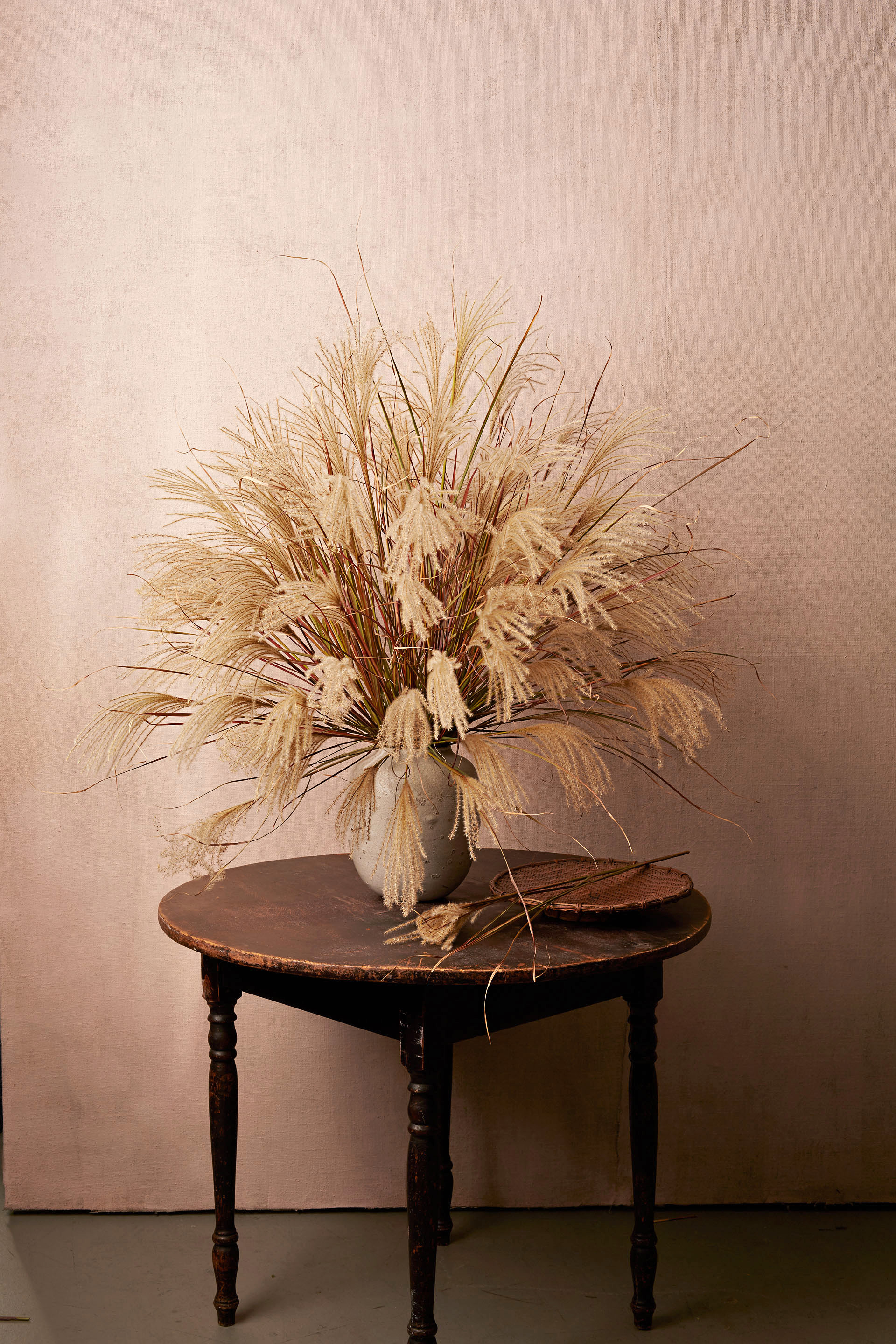 Corn Husk Garlands
At the front door, visitors to your home will marvel at this outdoor display. Decorative Indian corn is a farm-stand staple at this time of year and can be used in all manner of home décor projects: dye them, bath style, in a rainbow of dye colors or braid the husks to create a seasonal garland that drapes around your doorway.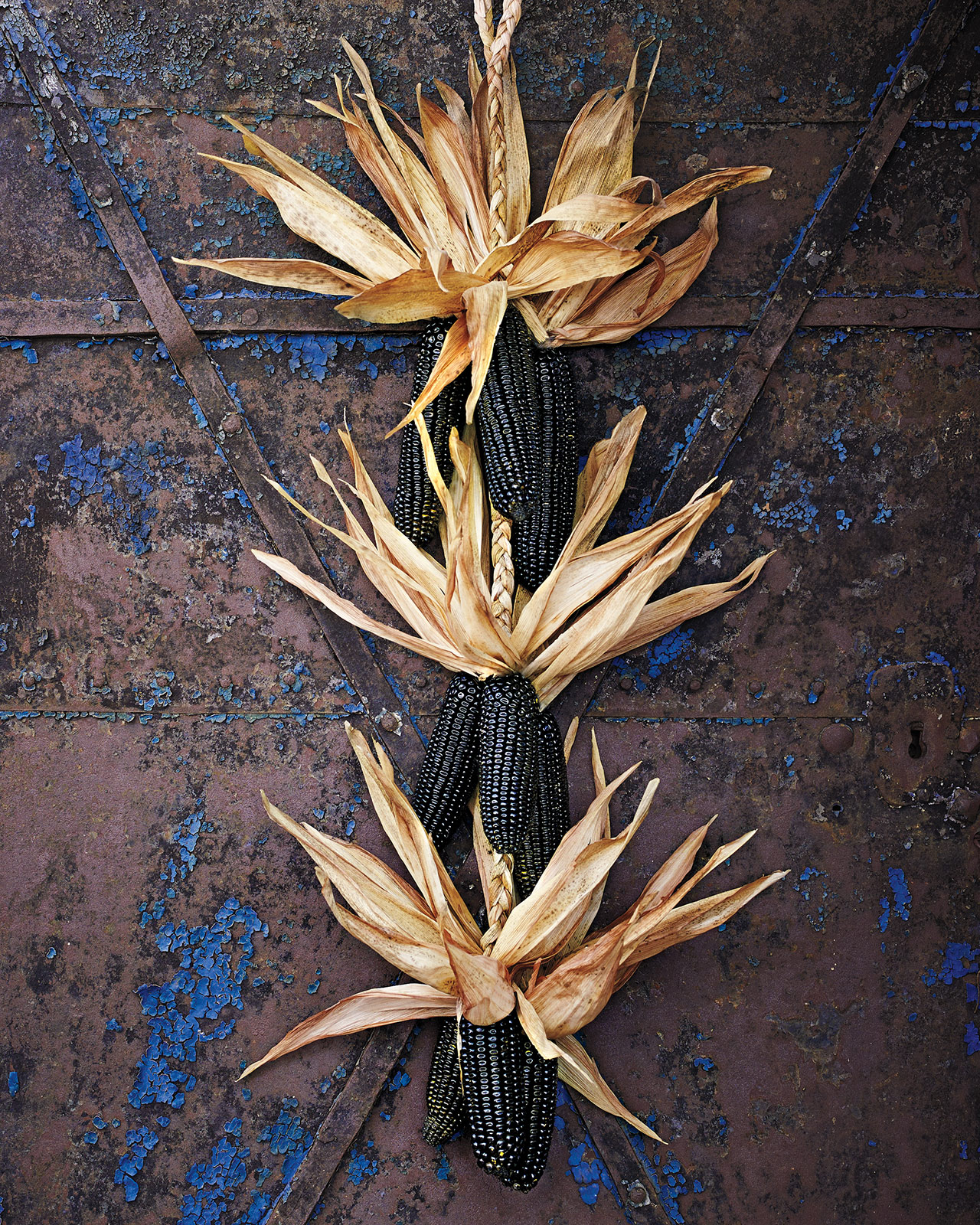 Pear "Welcome" Display
Once inside, guests will be greeted with a friendly, fragrant greeting using the season's abundant Forelles and Anjous pears. Simply arrange seven pears on a mantel. Then, with a fine-tipped washable marker, write letters on the front of each pear. Press whole cloves into the flesh along the lines and the sweet aroma will be as welcoming as the message itself.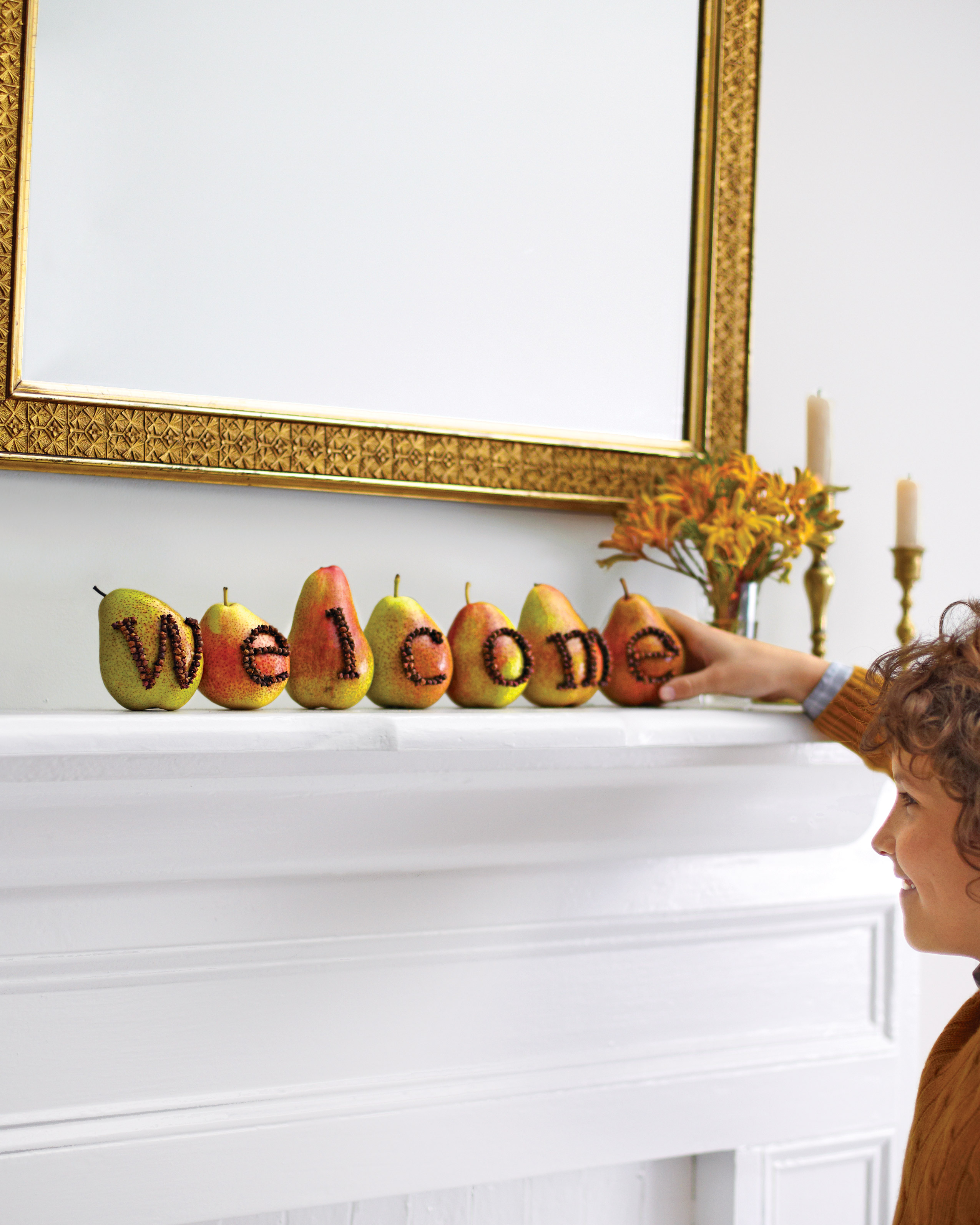 Lamp Chimney and Candle Centerpiece
Many people say grace at dinner, but you'll feel thankful well before if you prep the table with this easy yet eye-catching centerpiece. Incorporate the lamp chimneys at varying heights for a high-low look and better ease for guests to converse across the table.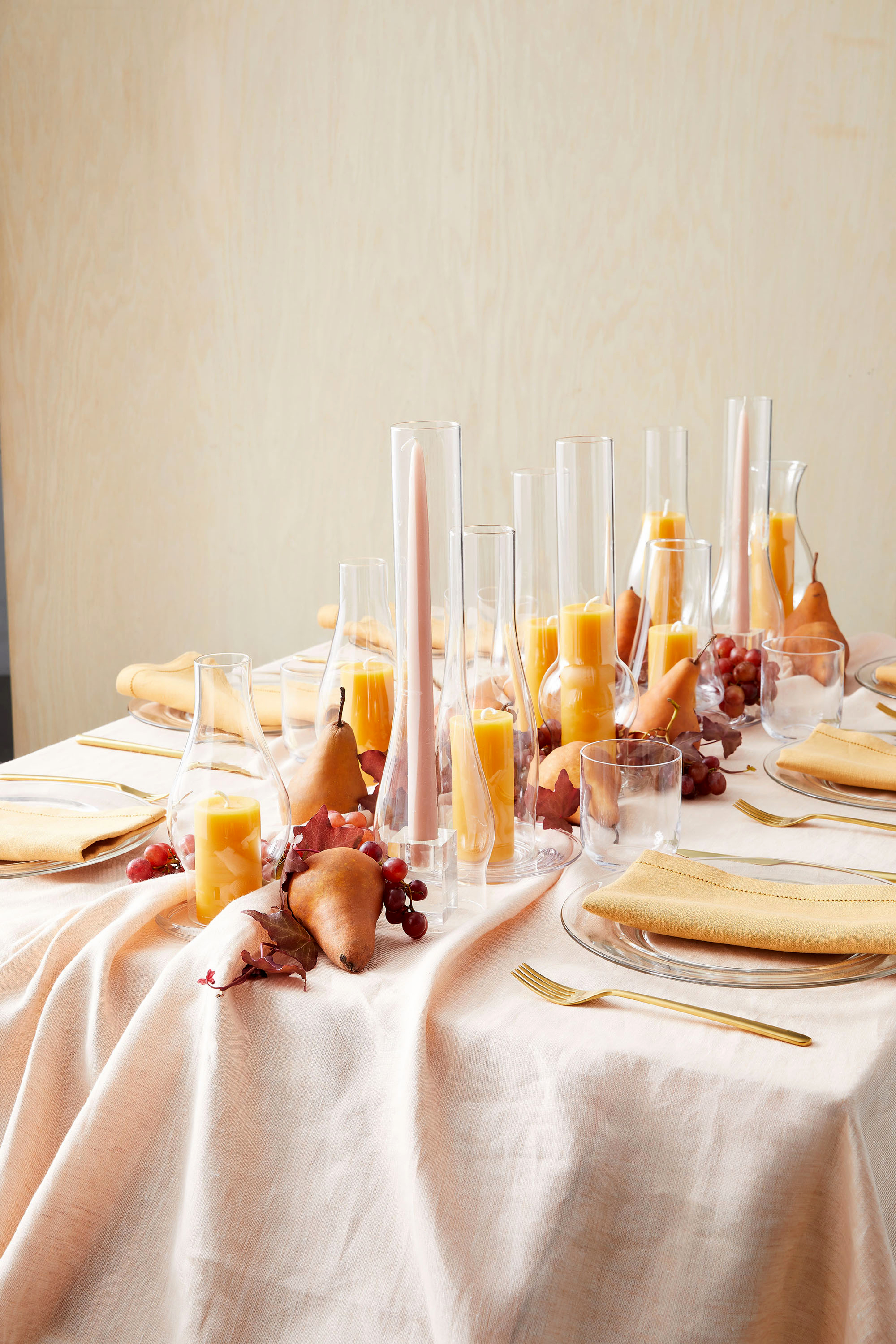 Wheat Centerpiece
Summer flowers may have wilted with the changing of seasons, but wheat stalks – with their delicate, golden form – are long lasting. Arrange an armful of tall stalks into a vase, cropping the ends and fluffing the tops, and display your glorious autumnal bouquet.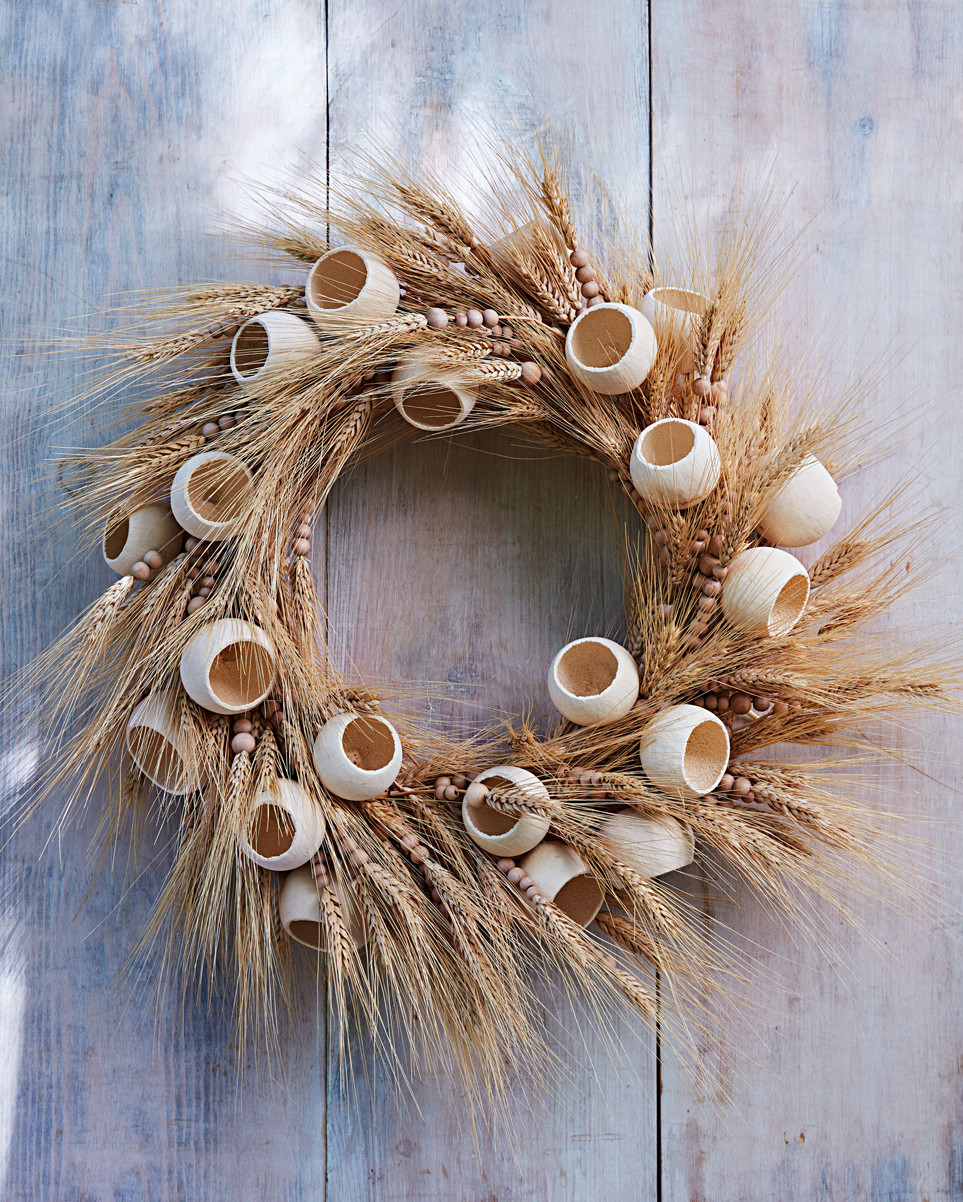 Squash-and-Pumpkin Flower Arrangements
Squashes and pumpkins come in all shapes and sizes, and when paired with seasonal blooms, they add character to your table. Combine a large greenish Hubbard squash paired with bittersweet branches and a white "Baby Boo" pumpkin with bright orange mums for a unique floral display.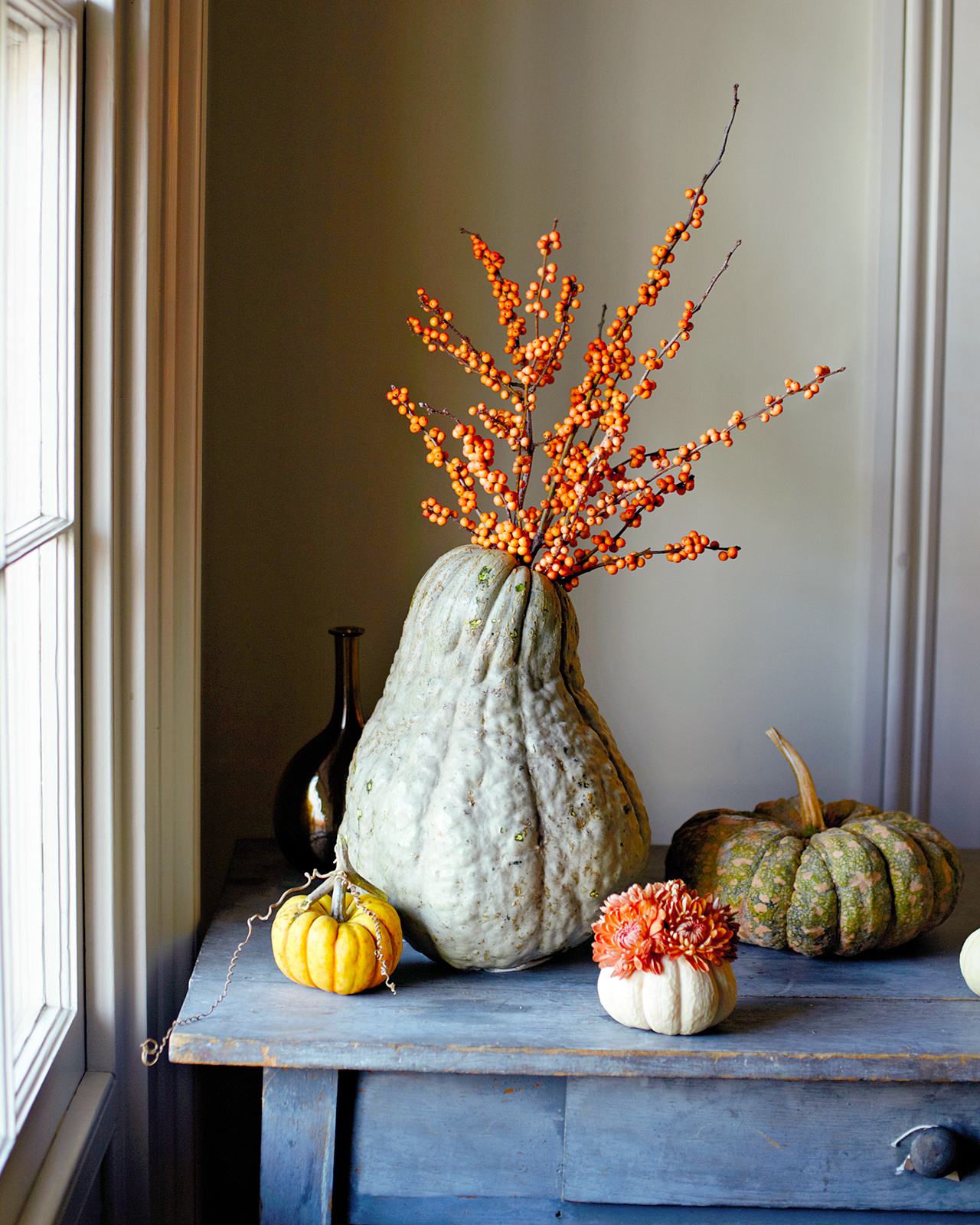 Turnip Votives
In a season of abundance, make full use of those richly colored vegetables that flourish in the transition from autumn into winter. Amid a set of gray-washed baskets on the table, turnips – in varying sizes – can be scooped out to hold votive candles that provide a soft glow.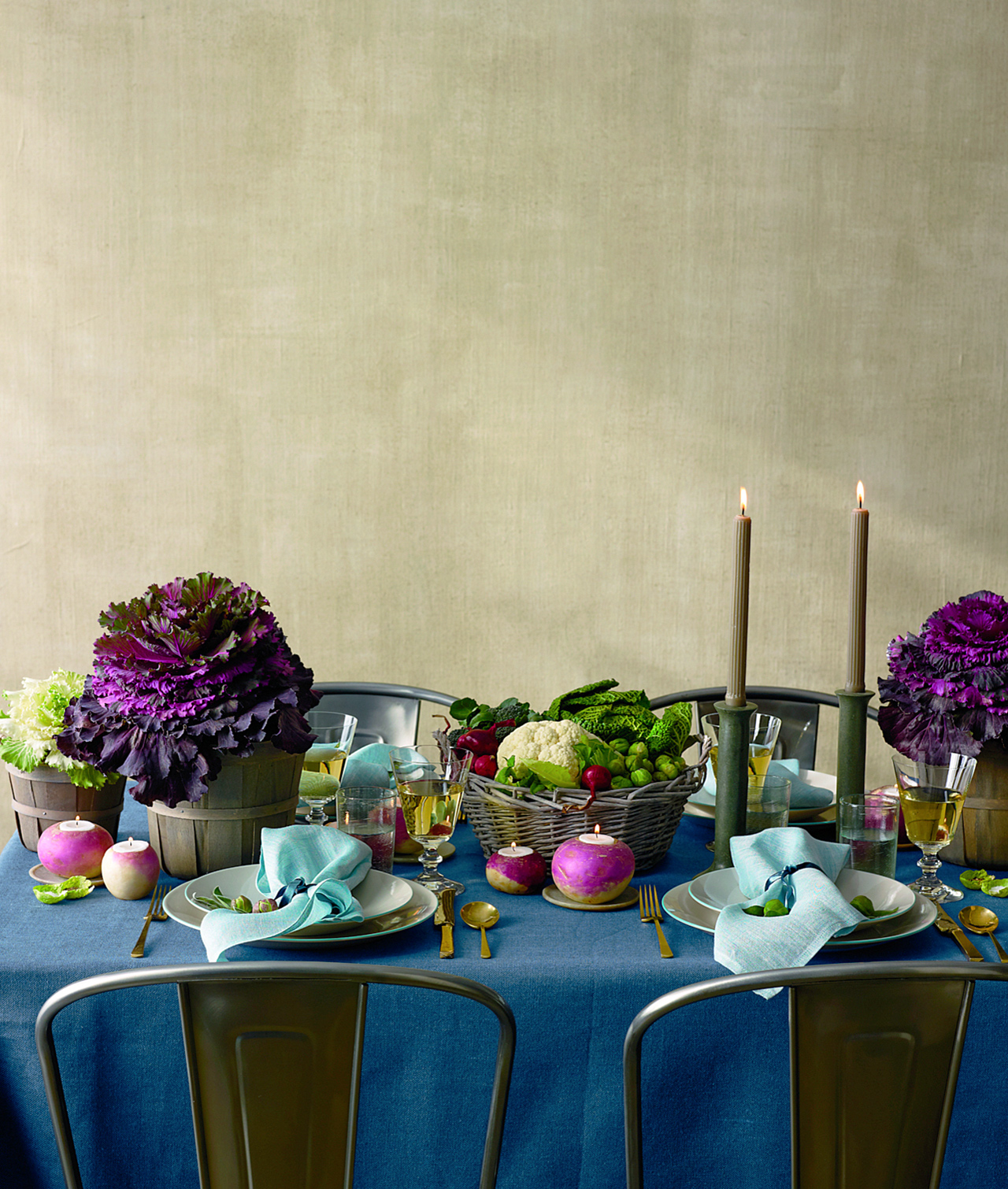 Cabbage Bowls and Cups
Bring in new colors and textures to the dinner table with heads of cabbage. Hollow out whole cabbages with a paring knife and spoon and use them to hold appetizer dips. Then, wrap the remaining leaves around glasses to hold crudités, cheeses, and breadsticks.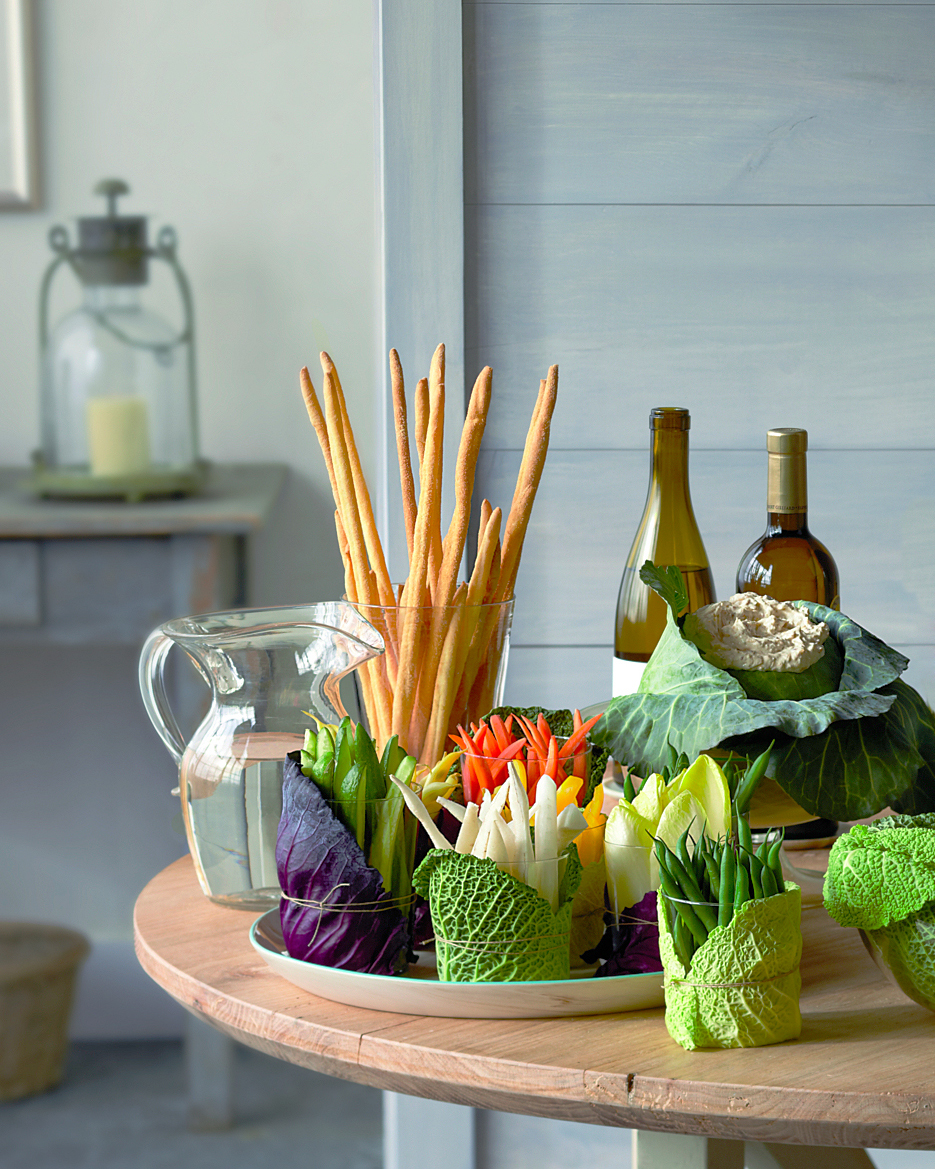 Sprout Napkin Ties
Small Brussels sprouts and sage leave combine to make a charming addition to each guest's place setting. For each napkin tie, sandwich one end of a ribbon between a sprout and a pair of sage leaves. Use a sequin pin to secure, pinning through the leaves first, then the ribbon, then into the sprout. Repeat on the opposite end of the ribbon, and tie it around a napkin in a loose knot. The sage leaves aren't just a pretty addition – they're fragrant, too.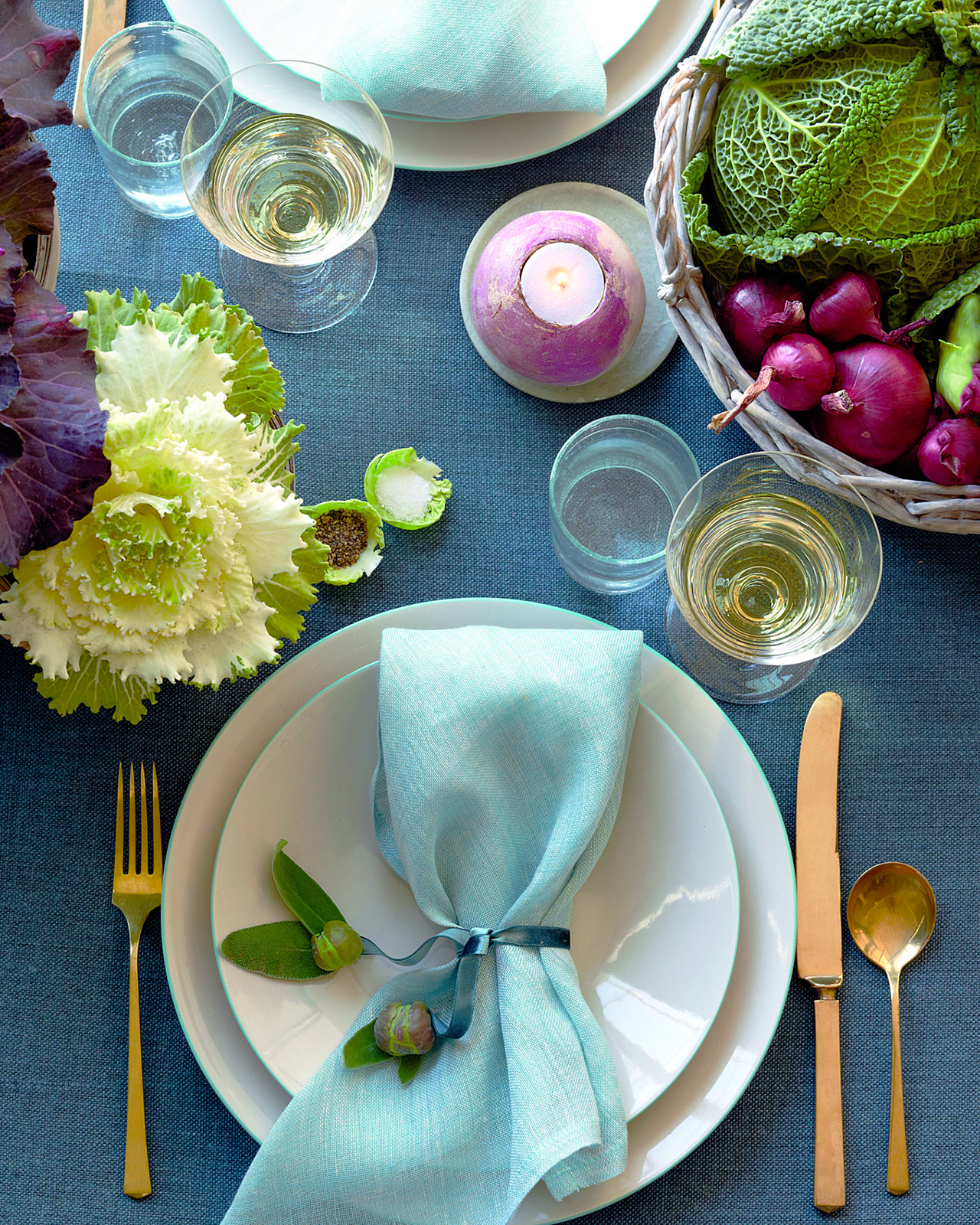 Hanging Basket of Fall Flowers
Assorted pinecones, pods, acorns and other natural decorations all make for a wilt-proof wall hanging. Treat them with a few coats of golden yellow paint, then hot-glue them to dried twigs gathered from the yard.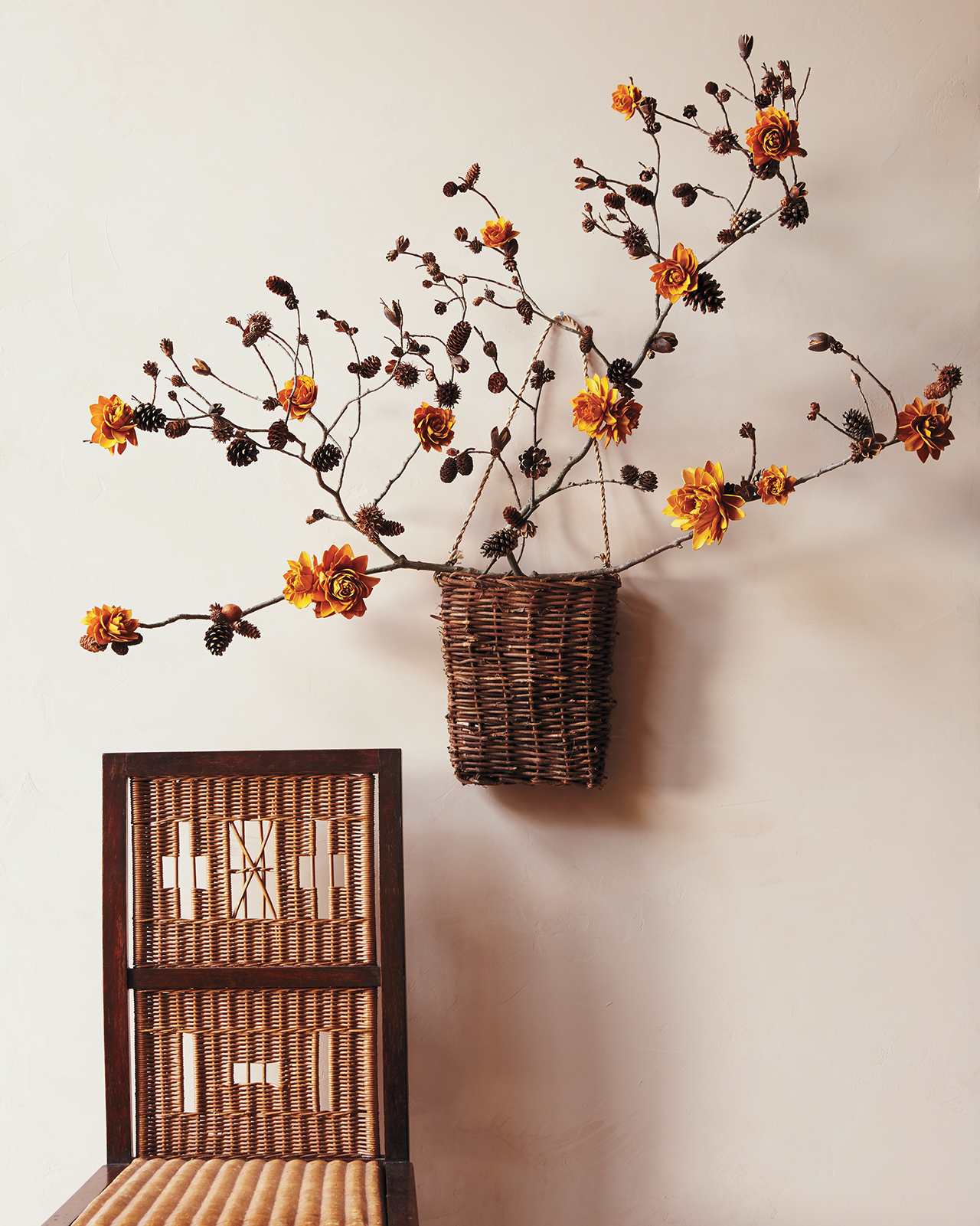 Glittered Corn Centerpiece
A few organic elements, touched with a bit of gilding, evoke fall's abundance. For an eye-catching centerpiece, turn a glass compote into a horn of plenty with glittering Indian corn and squash.
Tabletop Baskets
Baskets are good for more than bearing fruit! Make use of them on the dinner table as centerpieces, salt and pepper cellars, or and added touch to your guest's place settings. For each place card, cinch a napkin with a waxed cord and tie the ends around the basket's handle.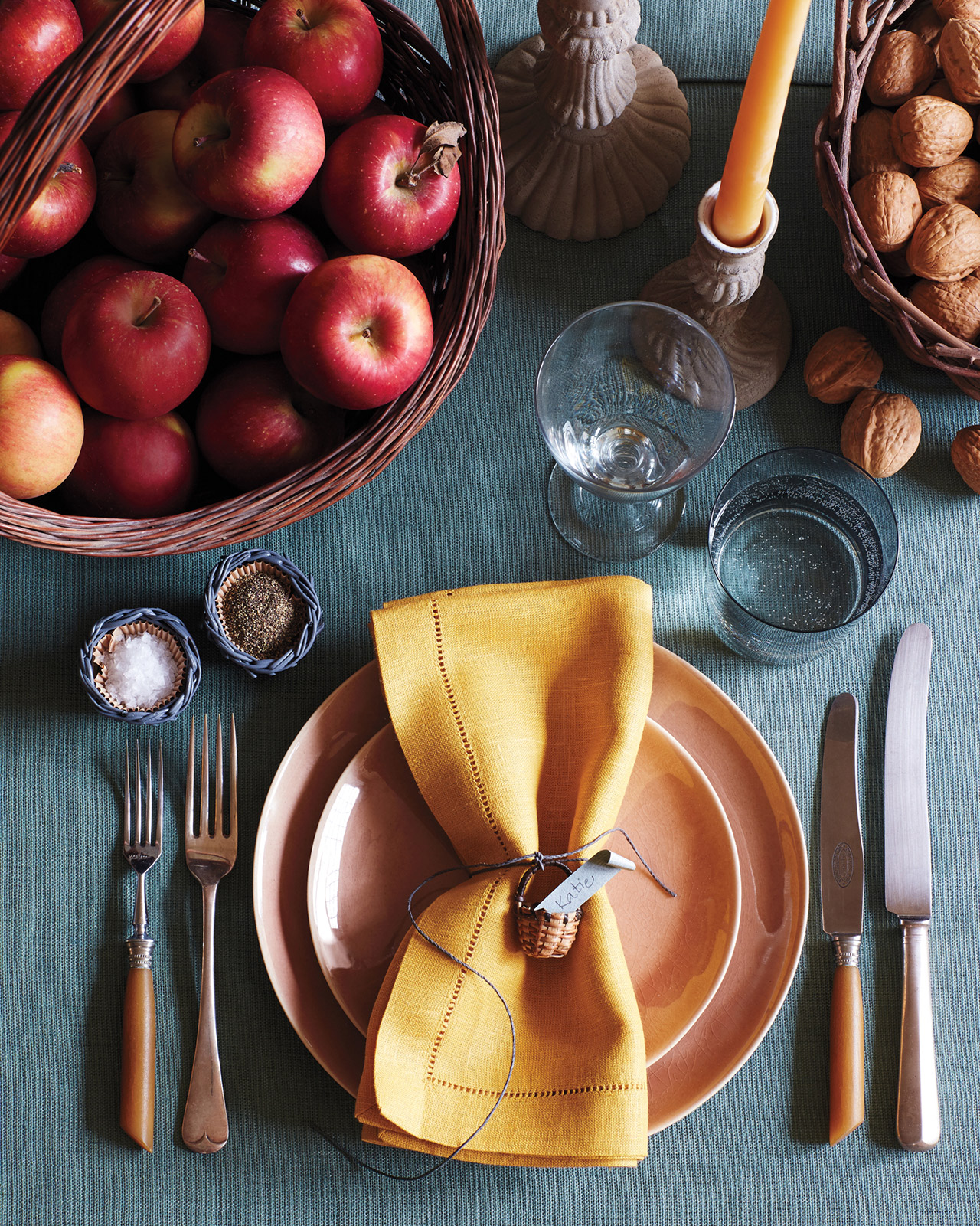 Bar Cart
Pumpkins, gourds and another harvest bounty need not be limited to the front porch or dinner table either – try interspersing them throughout your home, as shown on this rolling bar cart. It doubles as both a way to greet your guests with cocktails and a decorative statement.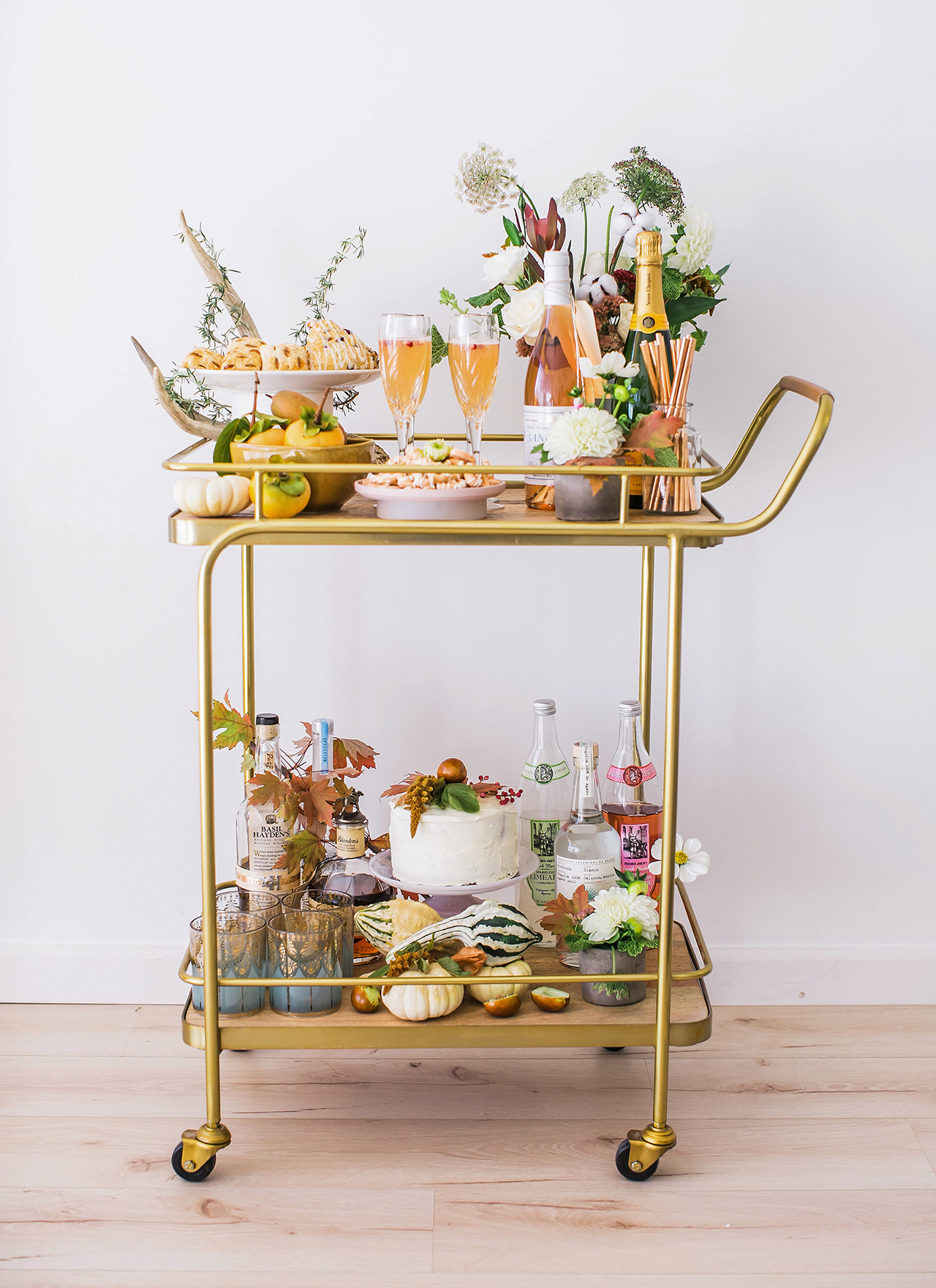 Cornucopia
For the piece de resistance of your fall harvest décor, why not consider the universal symbol of bounty? The cornucopia, that is. This raffia cornucopia lined with a bed of dried wheat stalks holds an abundance of golden squashes, apples, and pears. This is a natural Thanksgiving decoration that radiates good fortune!